studentsmile
Academic Support & Resources
Connect with Advising
Are you a new student? Returning to TCC? Or a transfer student? It's important to connect with the Advising Center who will help ensure you are on the right path.
Get help with coursework
​TCC offers multiple tutoring resources for to help you with your school work. ​
Library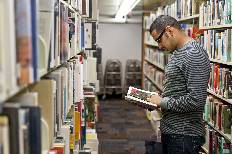 The TCC Library provides access to research resources, both print and online through research databases. Most importantly, librarians can help you learn how to research effectively for your college papers and cite your sources. The Library offers a welcoming study environment with 90 computers for student use and laptops for checkout. It is located in the center of the Tacoma campus, Building 7.
Open Educational Resources (OER)
Open Educational Resources (OER) are teaching materials available at little or no cost that can be used for teaching, learning or research. Our student surveys have shown that students find them just as effective as traditional textbooks, if not more so.
Check out the TCC Historical Archive
TCC's archive is a treasured collection of historical materials available for student, faculty or public research. Come explore our collection. The Archive is located in Building 7, behind the Library.
Certification & Testing Center
We are a National College Testing Association Certified Testing Center.
MESA

The Mathematics, Engineering, Science Achievement (MESA) Program supports students pursuing STEM majors with advising, academic enrichment, industry connections and professional development. At Tacoma Community College, MESA is a welcoming space where students gather to study and engage in science.
Life, Career, and Advising Support
Get a Free Bus Pass
TCC students are eligible for a free Pierce Transit ORCA pass, good for one whole quarter! For winter 2021, we're introducing a digital bus pass via the HOPTHRU mobile app.
Access Services
TCC is dedicated to helping out students with disabilities. Please contact Access Services to see what TCC can do to help you succeed.
Titan Food Pantry
The Max & Margi Harned Titan Food Pantry is open to all TCC Students.