close up image of painted black rock in the TCC common area
Black History Month 2022
February marks the start of Black History Month, a national celebration of our Black community, and a recognition of their many contributions to our country.
The mere imparting of information is not education."
We Honor Black History and our Black Community
February is celebrated as Black History Month in the United States.
It is a crucial time to revisit (or for many of us, visit for the first time) the origins of this acknowledgement and celebration of the histories and lives of Black people in the United States. The Association for the Study of African American Life and History (ASALH) provides a timeline of the origins of Black History Month with a look at the work of Dr. Carter G. Woodson, who is credited with establishing the "first Negro History Week" (February 1926).
It is also a time to acknowledge and celebrate the history and labor of Black members of the TCC family.
2022 Black History Month
Aligning with the 2022 theme of Black Health and Wellness, TCC (Tacoma Community College) would like to celebrate one of the ways we have already supported our community and to share some resources of support Health and Wellness.
TCC is a proud to share that we have hosted 12 Covid vaccination clinics at our Tacoma and Gig Harbor Campuses with an estimated 1,887 individuals vaccinated!
Here are a few resources to support Health and Wellness for those within and around our community:
Additional resources may be found through these TCC Library and Archives library guides and database:
Our Own History at TCC
The labor for racial justice and the path to becoming an anti-racist institution
There are two documents that showcase historic moments in our timeline, one encapsulating the revolutionary (student) labor of TCC's early days, providing context for reflection. The second, a living and dynamic piece from the current leadership at TCC, calling on us all to accept the responsibility to engage in dismantling white supremacy.
11 Demands by James Walton
The first document, the 11 Demands, made by TCC's Obi Society (the future Black Student Union) is presented here by TCC's Dale Coleman, from his work The Open Door: A History of Tacoma Community College.
On Monday, May 5th, 1969, a group of 71 students and community members entered the office of President Ford. At the helm of this demonstration was Jim Walton –TCC's Obi Society chairman and future Tacoma City Manager. Walton presented Ford with a four-page document, which contained a list of 11 demands "necessary to eliminate the racist conditions that exist on campus." The demands of the Obi Society were as follows:
The use of Obi Society funds for financial aid for TCC students with demonstrable need
The recruitments of 200 non-white students for the 1969- 70 school year, with Obi acting as chief recruiter
Financial Aid for the newly recruited students
The provision of $25,000 in funds for counseling and tutoring
The addition of a black studies course in the TCC's associate degree graduation requirements
The institution of a black literature class at TCC
The institution of a political science program focusing on contemporary Africa
The inclusion of black perspectives in sociology, psychology, history, English and economics
The establishment of a black studies department
The dismissal of all "incompetent and bigoted instructors"
The disarming of campus security officers
The presentation of the 11 demands to President Ford was the culmination of a year's worth of campus activism and engagement, from a passionate group of student activists who, through sheer determination and earnestness, brought to the forefront.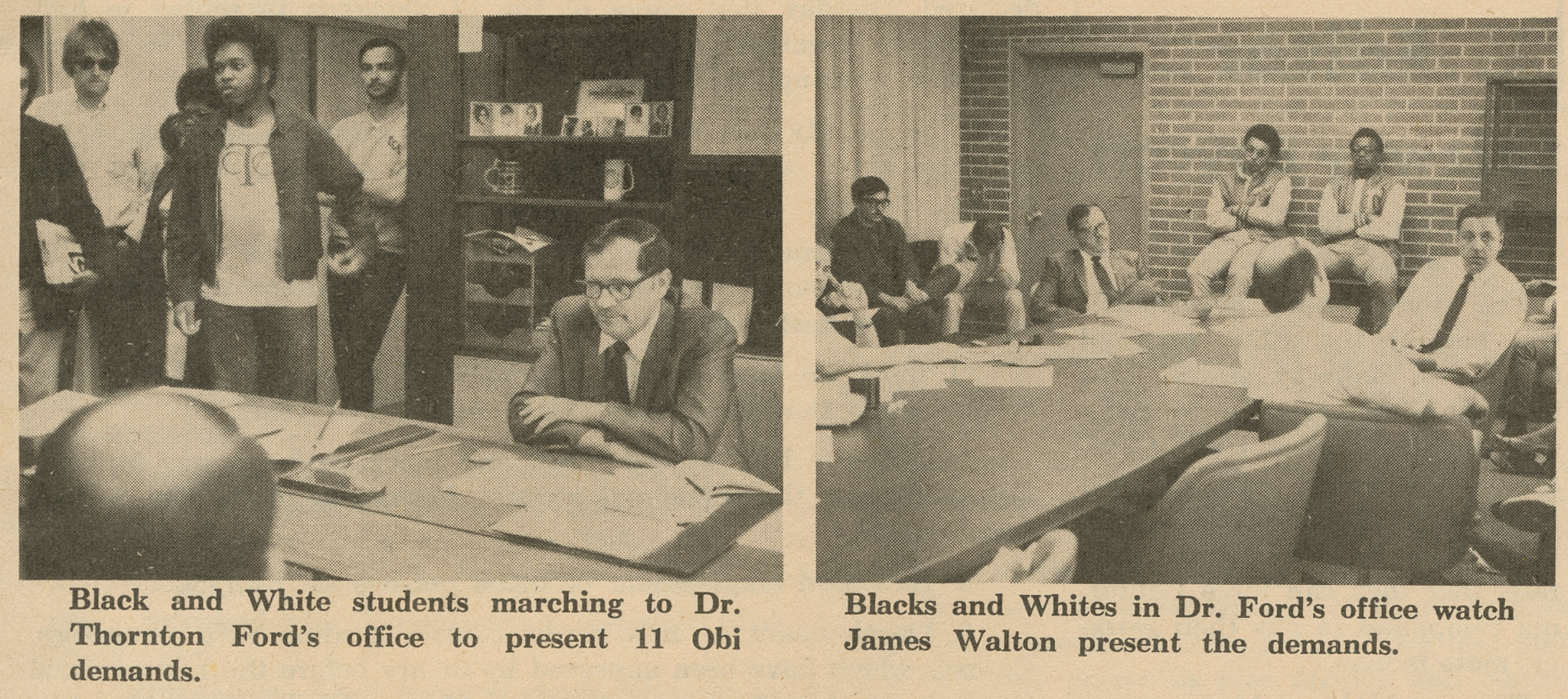 2020: TCC's Eight-Point Plan
The second artifact is a living document, created as a response to the events in 2020, the "Continued brutality and the murdering of Black people by police" and in support of TCC's mission:
As the community's college, we create meaningful learning, advance equity, and strengthen student and community success
The Eight Point Plan
Establish a Presidential Task Force to identify, develop, and advise on actions that articulate our college's commitment to access, equity, inclusion, and diversity, for systemically non-dominant populations, especially black students, staff, and faculty.
Review and revise all its institutional policies, using an anti-racist lens within the next five years.
Intentionally hire individuals with a history of service and/or teaching, with systemically non-dominant populations.
Work to ensure that issues of racism, oppression, social justice, and cultural diversity that impact systemically non-dominant populations, and Black people and their communities (local, national, and global) in particular, are reflected in Instruction.
Implement multiple opportunities for professional learning on equity minded hiring, the promotion of racial justice, unpacking implicit biases, Whiteness, anti-Blackness, racism in education, and racial battle fatigue.
Offer Affinity Groups to provide a structure for our campus members to affirm and learn about various identities. Affinity Groups will identify and implement actionable change, especially (but not limited to) anti-racism and solidarity among groups, particularly oppressed groups.
Intentionally feature and center ideas, scholarship, and works by systemically non-dominant (especially those from Black communities) scholars, students, artists, and communities.
Allocate and secure existing and additional resources to ensure this plan's success.
The Eight Point Plan to Address Recent Events Affecting Black Students & Employees at Tacoma Community College was released in 2020 and shows how TCC will move forward in fulfilling our mission.
As Titans, let us all take some time and acknowledge and celebrate Black lives and history... this month and each day moving forward.
In creating this plan, we acknowledge that our Black students and employees are not the only ones that experience injustice. Many groups have been promised but denied equality and their full human rights. The overarching goal of this plan is to begin to create balance in educational outcomes at TCC for everyone, starting with our Black community members."
TCC Events to Honor Black History Month
The Office for Equity, Diversity, and Inclusion will be hosting a screening and follow up discussion of the film I Am Not Your Negro on Wednesday, February 23 at 4pm.
Office of Student Engagement Events
The OSE will offer the following events this month (more information to come):
Zuzu African Acrobats, Monday, February 14th,Virtual, 1pm - 2:30pm
Breaking Generational Curses by Discovering Self Revelation, Wednesday, February 16th, Virtual, 1pm - 2:30pm
Financial Literacy Presentation, Friday, February 18th, Virtual, 3pm - 5pm
Black Excellence Celebration, Wednesday, February 25th, Virtual, 5pm - 7pm
Weekly Black History Trivia, Every week on TCC BSU's Instagram
Other Local Events and Activities for Black History Month
Black Lives Matter
At TCC, we stand with our Black communities and take action for social justice.