blue graphic with healthcare symbols
Health Information Management
Health Information Management (HIM)
Bachelor of Applied Science (BAS)
About
The Bachelor of Applied Science (BAS) degree provides a pathway for graduates of associate degree programs in health care fields to attain a baccalaureate level education in the dynamic Health Information Management (HIM) field. The specialized field of Health Informatics and Information Management is an exciting career choice. Health information professionals are in high demand as the health sector continues to expand.
The HIM Applied Baccalaureate degree is offered completely online. This provides convenience and flexibility for students balancing work and family commitments, while providing an excellent, affordable education.
Information Sessions
Want to learn more? Join us for an HIM BAS Info Session.
Every second Tuesday | 4:00 - 4:30 pm
Looking for HIM Leadership Conference information?
Accreditation Status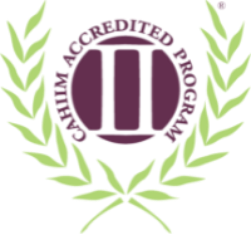 The Health Information Management accreditor of Tacoma Community College is the Commission on Accreditation for Health Informatics and Information Management (CAHIIM).
The College's accreditation for the Baccalaureate degree in Health Information Management has been reaffirmed through 2027.
All inquiries about the program's accreditation status should be directed by mail to:
CAHIIM
200 East Randolph Street, Suite 5100
Chicago, IL, 60601
Phone 312.235.3255
Email info@cahiim.org
Graduates are eligible to sit for the Registered Health Information Administrator (RHIA) national accreditation examination.
Certification Information
In accordance with U.S. Department of Education Regulation 34 CFR 668.43 (a) (5) (v), educational institutions must provide information related to whether their programs will fulfill educational requirements for specific professional licensure or certification and to inform prospective students whether their degree upon graduation will qualify them to work in the state where they are located. Graduates of the HIM program are eligible to sit for the RHIA exam, which is valid in every state.
Admission Virtual Information Course
The Admission Virtual Information Course is part of the BAS admission process.
Application Factors
TCC receives more applicants to the BAS program than there are available positions. Please review the factors we consider when accepting applications.
Review the Factors
Apply to HIM BAS program
Transcript review is completed during application review.
Apply to HIM BAS
HIM BAS Program
TCC's HIM BAS degree program prepares students for successful employment. Here's a snapshot of what the program entails.
Got more questions?
Here are some resources for you.
Review
Review related Frequently Asked Questions.
FAQ
Complete
Complete the Virtual Information Course and take the first step toward acceptance into the Health Information Management Applied Baccalaureate Degree.
Admission Virtual Info Course
A Friendly Reminder
Don't forget to apply for general admission to TCC.
The application is free!
Contact Us
HEALTHCARE PATHWAY'S SPECIALIST
Sunny Curry
253-460-2368