HIM hero image
Health Information Management
Health Information Management (HIM)
Bachelor of Applied Science (BAS)
About
The Bachelor of Applied Science (BAS) degree provides a pathway for graduates of associate degree programs in health care fields to attain a baccalaureate level education in the dynamic Health Information Management (HIM) field. The specialized field of Health Informatics and Information Management is an exciting career choice. Health information professionals are in high demand as the health sector continues to expand.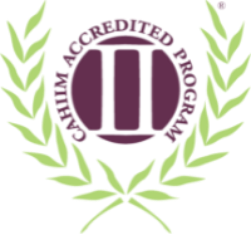 The HIM Applied Baccalaureate degree is offered completely online. This provides convenience and flexibility for students balancing work and family commitments, while providing an excellent, affordable education.
Accreditation Status
The Health Information Management accreditor of Tacoma Community College is the Commission on Accreditation for Health Informatics and Information Management (CAHIIM).
The College's accreditation for the Baccalaureate degree in Health Information Management has been reaffirmed through 2027.
All inquiries about the program's accreditation status should be directed by mail to:
CAHIIM
200 East Randolph Street, Suite 5100
Chicago, IL, 60601
Phone 312.235.3255
Email info@cahiim.org
Graduates are eligible to sit for the Registered Health Information Administrator (RHIA) national accreditation examination.
Admission Virtual Information Course
The Admission Virtual Information Course is part of the BAS admission process.
Application Factors
TCC receives more applicants to the BAS program than there are available positions. Please review the factors we consider when accepting applications.
Review the Factors
Apply to HIM BAS program
Transcript review is completed during application review.
Apply to HIM BAS
HIM BAS Program
TCC's HIM BAS degree program prepares students for successful employment. Here's a snapshot of what the program entails.
Requirements of Admission to Program

Associate Degree in health or business (or 90 college level credits)


General Education - Credit Hours: (30 Required)
COMMUNICATION: 5 credits
ENGL& 101 English Composition I
HUMANITIES: 5 credits - recommend to choose from the following
CMST 110 Multicultural Communication
CMST& 210 Interpersonal Communication
CMST 320 Professional and Organizational Communication
SOCIAL SCIENCE: 5 credits – recommend to choose from the following
PSYC& 100 General Psychology
PSYC& 220 Abnormal Psychology
PSYC 360 Health Psychology
SOC 262 Race and Ethnic Relations
NATURAL SCIENCE: 10 credits
BIO&175 Human Anatomy & Physiology
HIT 160 Pathophysiology/Pharmacology
QUANTITATIVE SKILLS: 5 credits
MATH 136 Inferential Statistics
or
MATH& 146 Introduction to Statistics
Upper Division General Education - Credit Hours: (15 Required)
ENGL 301 Written Communication in the Workforce
PHIL 320 Ethical Decision Making
PSYC 301 Fundamentals of Research for Healthcare
HIM BAS Core Requirements - Credit Hours: (63 Required)
LS 301 Research Skills for Healthcare (2)
HIM 301 Foundations in Health Information (5)
HIM 315 Health Law (3)
HIM 320 Information Protection (3)
HIM 325 Health Data Structure & Quality (5)
HIIM 330 Classifications & Coding (5)
HIM 335 Organizational Management in Healthcare (5)
HIM 415 Foundations in Data Use (5)
HIM 425 Information Governance (5)
HIM 435 Revenue Cycle Management (5)
HIM 445 Analytics and Data Use (5)
HIM 465 Health Complaince (5)
HIM 475 Leadership in Healthcare (5)
HIM 485 Capstone/Internship (5)

College Level Elective Courses - Credit Hours: (72 Required)
Can include any college level course. Students will work with advisors to choose appropriate classes based on their previous education and work experience. Topics should include the following:
CU 103 Excel I (3)
CU 203 Excel II (3)
HIT 105 Comprehensive Medical Terminology (5)
HIT 179 Ethical Issues in Health Information (1)
HIM 295 Computer Concepts in HIM (2)
HIM 299 Independent Study in Health Information (6)
Total: 180 credits
What is the cost of the program?
The following cost estimate is based on a full time student who needs to complete 90 Credits (60 upper division HIM credits + 30 lower division general education). 15 quarterly credits x 6 quarters
Students are encouraged to review the official Tuition Rate/Student Approved Mandatory Fees information posted by Tacoma Community College. The following table reflects approximate tuition rates for a full-time resident student.
Break Down of Costs*
Tuition/Fees ($2260.30 per quarter)
$13561.80
Student approved mandatory fees ($187.50 per quarter)
$1125.00
Books and Supplies* ($300 per quarter)
$1800.00
Student HIM Course Fees
$654.50

AHIMA student membership ($49 per year for non-credentialed students)

or

AHIMA professional membership ($135 per year for credentialed students)

$98.00

or

$270.00

Certified Background Check
$65.00
Clinical Placements Northwest (CPNW)
$75.00
Drug Screen
$45.00-$85.00
Proof of Immunizations
varies
RHIA Credential Examination fee
$229.00 with AHIMA membership
Total
$15,733.30 - $17,636.30
*All costs are approximate
Students are responsible for miscellaneous registration fees, purchasing any required textbooks, and are required to hold an active membership to the American Health Information Management Association (AHIMA).
Check out the Types of Aid available for you at TCC. BAS students qualify for all aid types.
Program Effectiveness Outcomes
Program Evaluation Survey: 100% of respondents would recommend program to a friend
Upon successful completion of the Health Information Management Bachelor of Applied Science program, students will be able to:
Evaluate and manage strategies, policies, and procedures surrounding health record content, data management & integrity, information governance, and clinical classification systems. (*CC 1)
Recommend systems to ensure the protection of health information, including privacy and security strategies, retention standards, and regulatory compliance. (*CC 2)
Analyze and Interpret data and implement technology used in informatics, to include analytics, health care statistics, research methodologies, database management, and health information exchange. (*CC 3)
Manage the revenue life cycle through reimbursement processes that ensure compliance with regulatory requirements, coding guidelines and payment systems. (*CC 4)
Interpret policies and procedures for compliance with local, state and federal laws to include HIPAA, accreditation, licensing and certification, fraud surveillance, quality improvement and risk management. (*CC 5)
Evaluate and integrate culturally responsive and diverse practices, policies and procedures that support successful leadership in the areas of change management, work design, process improvement, human resource management, training and development, strategic and organizational management, financial management, project management, vendor/contract management, and enterprise information management. (*CC 6)
All Program Level Outcomes also align with TCC's Degree Learning Outcomes. TCC has six measurable outcomes that all degree recipients are expected to meet.
Core of Knowledge (COK): Demonstrate a basic knowledge of each of the distribution areas (Written Communication, Humanities, Quantitative Skills, Natural Sciences and Social Sciences), or, as applicable, specific professional/technical content, and program-level content and apply this knowledge to academic endeavors.
Communication (COM): Listen, speak, read, and write effectively and use nonverbal and technological means to make connections between self and others.
Critical Thinking & Problem Solving (CRT): Compare, analyze, and evaluate information and ideas to solve problems.
Information & Information Technology (IIT): Locate, evaluate, retrieve, and ethically use relevant and current information of appropriate authority for academic or, as applicable, specific professional/technical applications.
Intercultural Collaboration & Diversity (ICD): Demonstrate successful application of an interdependent, diverse, and multicultural worldview through collaborative engagement.
Responsibility & Ethics (RES): Demonstrate an understanding of what constitutes responsible and ethical behavior toward individuals, the community, and the environment.
Schedule of Classes 2021/22
Please note that your schedule will depend on your educational background and how many general education courses you need to be complete.
Prior to Starting Cohort Classes

Course Number

Course Name

Credits

HIM 290

Introduction to Medical Coding

5

HIM 295

Computer Concepts for HIM

2

HIM 299

Independent Study in HIM

2 to 6

General Elective/Distribution

College level course 100+ OR Distribution course


5

Year One FALL QTR (15 credits)

HIM 301

Fundamentals in Health Information

5

ENGL 301

Written Communication in the Workforce

5

HIM 315

Health Law

3

LS 301

Research Skills for Healthcare

2

Year One WINTER QTR (13 credits)

PHIL 320

Ethical Decision Making

5

HIM 320

Information Protection

3

HIM 325

Health Data Structure & Quality

5

Year One SPRING QTR (15 credits)

PSYC 301


Fundamentals of Research for Healthcare

5

HIM 330

Classifications & Coding

5

HIM 335


Organizational Management in Healthcare
5
Year Two FALL QTR (15 credits)
Course Number

Course Name

Credits

HIM 415

Foundations of Data, Data Analytics and Data Visulization

5

HIM 425

Information Governance

5

HIM 435

Revenue Cycle Management

5

Year Two WINTER QTR (15 credits)

HIM 445

Applied Data, Data Analytics and Data Visualization

5

HIM 465

Health Compliance

5

General Elective/Distribution

College level course 100+ OR Distribution course

5

Year Two SPRING QTR (15 credits)

HIM 475

Leadership in Healthcare

5

HIM 485

Capstone/Internship

5

General Elective/Distribution

College level course 100+ OR Distribution course

5
Curriculum Time Limits
While we do realize it may be necessary for some students to attend school at a part-time rate, it is vital that students complete all HIM courses within five years to ensure that the curriculum they complete is as up-to-date as possible. A student may petition their HIM faculty advisor for a waiver of this requirement.
More to Explore
What does a Health Information Management Professional Do?
Health information (HI) professionals are highly trained in the latest information management technology applications. They understand the workflow process in healthcare provider organizations, from large hospital systems to private physician practices, and are vital to the daily operations management of health information and electronic health records (EHRs). They ensure a patient's health information is complete, accurate, and protected.
HI professionals have an extraordinary impact. They are the link between clinicians, administrators, technology designers, operations, and information technology professionals.
These professionals affect the quality of patient information and patient care at every touch point in the healthcare delivery cycle. HI professionals work on the classification of diseases and treatments to ensure they are standardized for clinical, financial, and legal uses in healthcare. HI professionals care for patients by caring for their medical data and are responsible for the quality, integrity, security, and protection of patients' health information. (AHIMA, 2020)
Average Salary by Job Family
The following average salaries were reported in a 2019 AHIMA survey. These are national averages and may not be reflective of your specific region.
Revenue Cycle Management/Coding and Billing $66,370
Revenue Cycle Manager or Director
Revenue Cycle Auditor
Coding Professional
Operations/Administration $81,950
Director or Manager of Health Information Management
Project Manager
Release of Information
Quality Improvement Management
Clinical Documentation Integrity (CDI) $84,300
Clinical Documentation Manager or Specialist
Director of CDI
Clinical Data Coordinator
Compliance/Risk Management $89,230
Quality Improvement Analyst
Compliance Auditor
Privacy Officer
Information Security Management
Director of Risk Management
Informatics/Data Analytics $83,490
Clinical Informatics Coordinator
Data Integrity Analyst
Director of Clinical Informatics
Research and Development Scientist
IT and Infrastructure $98,180
Implementation Support Specialist
Data Quality Manager
System Analyst
Data Architect
Chief Technology Officer
There are several Master's degree-level paths that graduates of the HIM BAS program have upon completion.
WGU offers Master's degrees in multiple fields. They accept all Washington BAS degree graduates via a statewide transfer (articulation) agreement.
Pacific Lutheran University has a transfer agreement for all TCC BAS degrees to be accepted into all their Master of Business Administration, Master of Science in Finance, Master of Science in Marketing Analytics degrees offered through their School of Business.
University of Washington-Tacoma's Milgard School of Business (MSB) program accepts all TCC's applied bachelor's degrees into their Master of Science in Business Analytics.
In addition to the official transfer partnerships listed above, we have had HIM BAS graduates go on to other institutions - here are a few examples:
Seattle University
- School of Law
- Legal Studies in Compliance & Risk Managment
College of St. Scholastics
- Health Informatics
West Coast University
- Master of Public Health
Walden University
- Social Worker in Healthcare
Got more questions?
Here are some resources for you.
Review
Review related Frequently Asked Questions.
FAQ
Complete
Complete the Virtual Information Course and take the first step toward acceptance into the Health Information Management Applied Baccalaureate Degree.
Admission Virtual Info Course
A Friendly Reminder
Don't forget to apply for general admission to TCC.
The application is free!
Contact Us
Andrea Cobb, Program Navigator