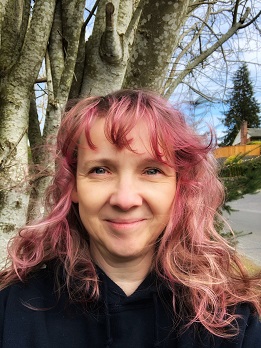 | | |
| --- | --- |
| Email | sendicott@tacomacc.edu |
| Phone | 253.566.5251 |
| Fax | 253.566.5251 |
| Office | Bldg. F1 Rm: 62 |
| Dept. | Communication & Transitional Studies (Dev Ed) |
Hi, my name is Sabine Endicott (Sabina)
Discipline
English
I am the Learning Communites Coordinator at TCC and I teach English. I am passionate about Learning Communities and teaching. It makes so much sense to combine academic subjects, to integrate course work, to work in a close community of instructors and students, and to connect with the campus and community. Please contact me to find out more about our Learning Communities.
One of My Favorite LC Activities
One of my favorite LC activities is helping students research environmental justice issues around the world. We use an interactive map and students learn about specific cases in an area of their choice. I love this activity because it links class content to problems in real life. Students report that they really like the interactive format of this lesson and that they appreciated learning about issues in their own communities.
I Love Teaching in This LC Because
I get to teach with Blaine, who is one of the most thoughtful instructors I know. He slows me down when I want to go too fast, and I love hearing about his adventures teaching and working abroad. We both "geek out" about anything related to environmental justice.
Our Ideal LC Student
Will be curious and open to engage in new experiences.
In Class I'm Most Likely To
Build relationships – I am all about connections – I think they are vital to help us all learn.
I also celebrate mistakes – They help us grow!
Credentials
BSU, 1997 - MA English
University of Rostock, 1993 - BA
Professional Associations
National Learning Communities Association
Class Schedule
| Quarter | Class | Title | Day(s) | From | To | Location | Mode |
| --- | --- | --- | --- | --- | --- | --- | --- |
| Fall | ENGL& 101A2- | English Composition I | MW | | 2:20 PM | | Classroom |
| Fall | ENGL& 101A6- | English Composition I | ARRANGED | | | ONLARR | Classroom |
| Fall | ENGL& 101A6- | English Composition I | ARRANGED | | | ONLARR | Classroom |
| Fall | WRITE 095A6 | Tools for Reading and Wr | ARRANGED | | | ONLARR | Classroom |
| Fall | WRITE 095LC4 | Tools for Reading and Wr | Th | | 1:20 PM | 12-140 | Classroom |
| Fall | COL 10128O | College 101 | ARRANGED | | | ONLARR | Classroom |
| Fall | COL 101LC4 | College 101 | TTh | 10:30 AM | 11:20 AM | 12-140 | Classroom |