studentsmile
Academic Support & Resources
Connect with Advising
Are you a new student? Returning to TCC? Or a transfer student? It's important to connect with the Advising Center who will help ensure you are on the right path.
Get help with coursework
​TCC offers multiple tutoring resources for to help you with your school work. ​
Get to the Library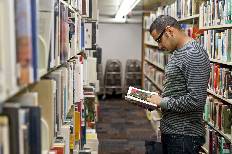 The TCC Library is located in the center of the Tacoma campus, Building 7. The library offers a comfortable place for you to study and relax, while stocked with the research tools you need.
Open Educational Resources (OER)
Open Educational Resources (OER) are teaching materials available at little or no cost that can be used for teaching, learning or research. Our student surveys have shown that students find them just as effective as traditional textbooks, if not more so.
Check out the TCC Historical Archive
TCC's archive is a treasured collection of historial materials available for student, faculty or public research. Come explore our collection. The Archive is located in Building 7, behind the Library.
Certification & Testing Center
We are a National College Testing Association Certified Testing Center.
Life, Career and Advising Support