Earth Week Events
Kia Kaha Restoration Work
Monday, April 18, 3-4:30 p.m.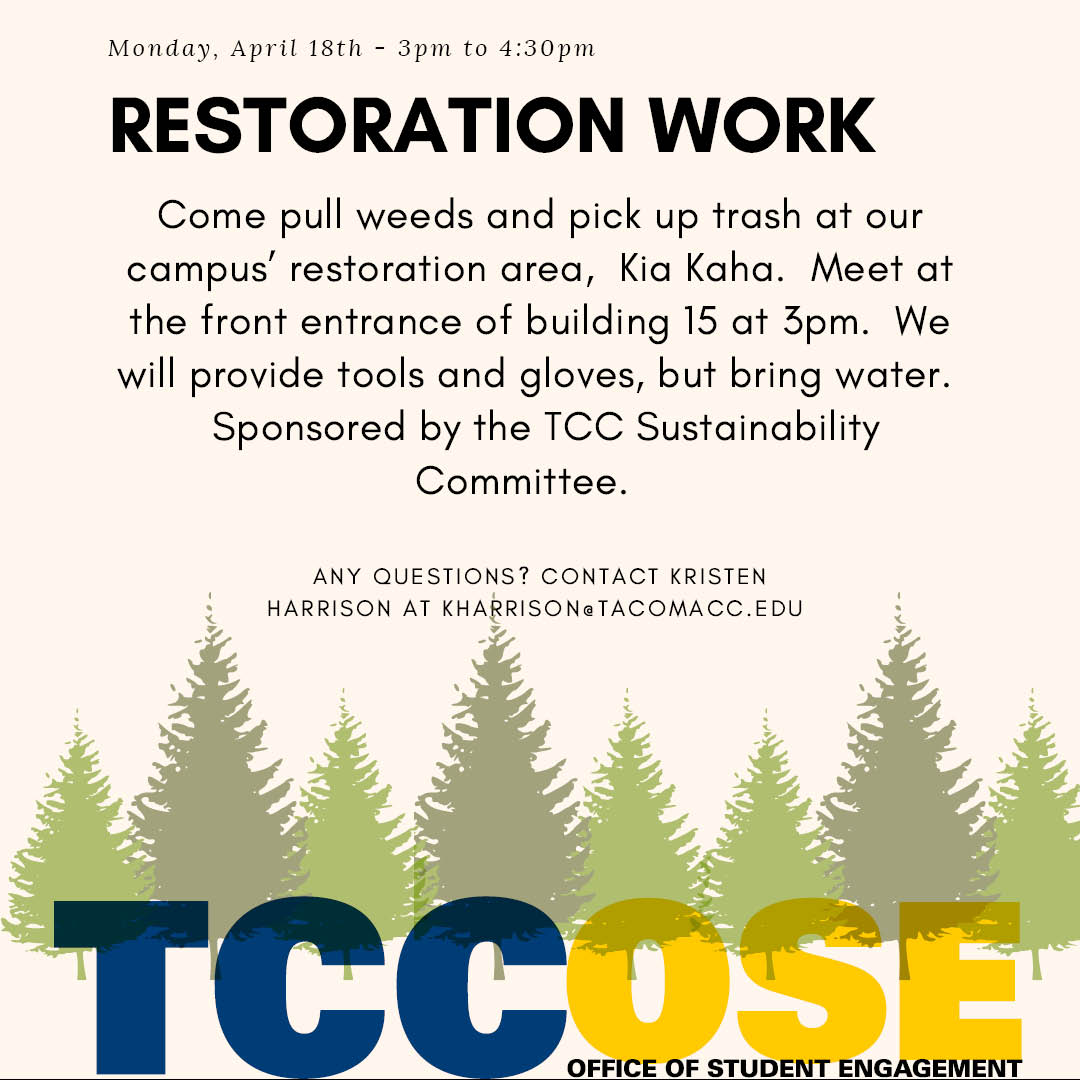 Help restore TCC's wetland, Kia Kaha! A group will meet at the front entrance of Building 15 at 3 p.m. and go to the site together. Gloves and tools provided, please wear clothing that you don't mind getting dirty and bring a water bottle. Sponsored by the TCC Sustainability Committee. Questions? Contact Kristen Harrison: kharrison@tacomacc.edu.
Salmon Release
Tuesday, April 19, 3 p.m. at Puget Creek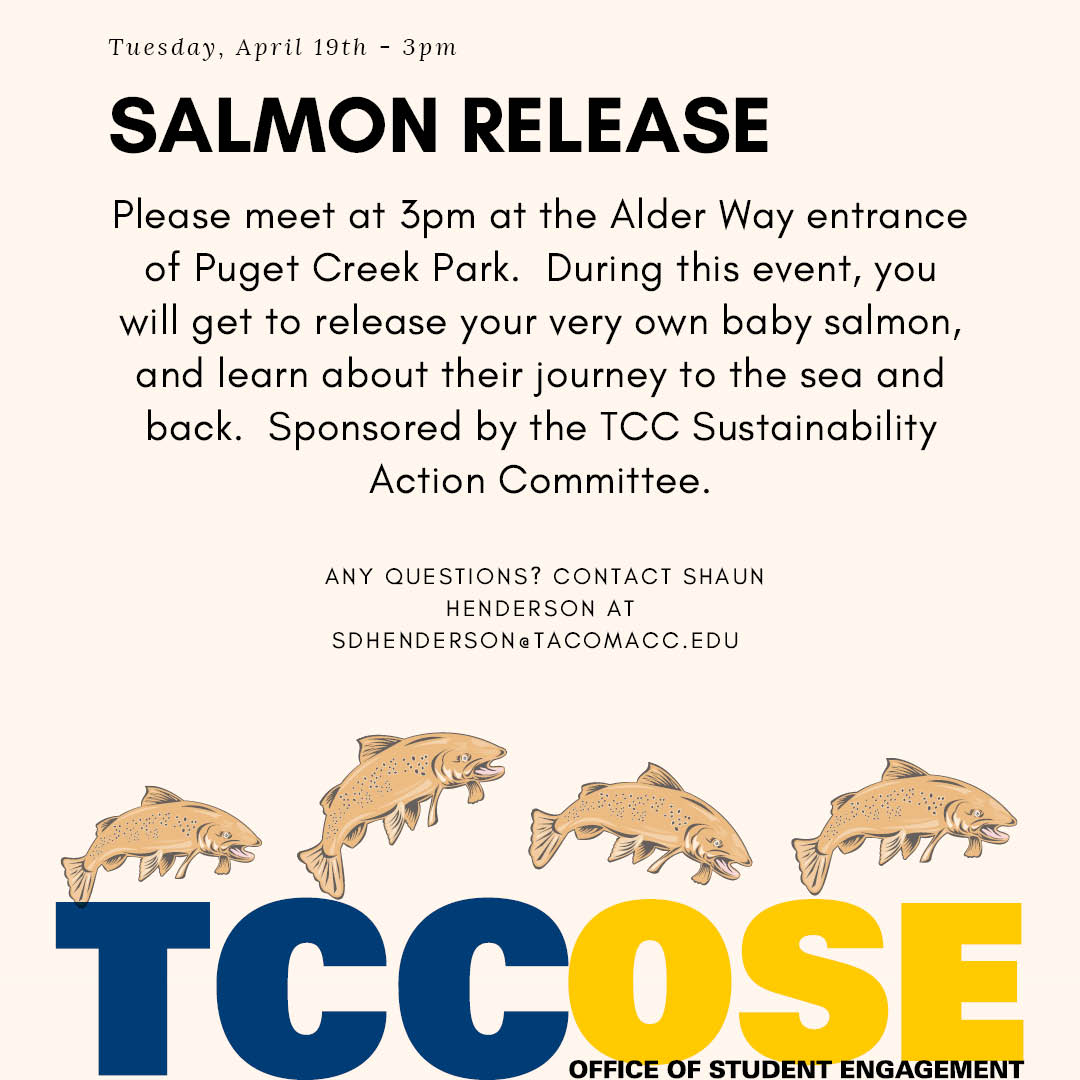 Meet at the Alder Way entrance to Puget Creek Park at 3 p.m., release a baby salmon into the creek, and learn about their journey to the sea and back! Sponsored by the TCC Sustainability Action Committee. Questions? Contact Shaun Henderson: shenderson@tacomacc.edu.
Sustainability Garden Opening
Wednesday, April 20, 1-4 p.m.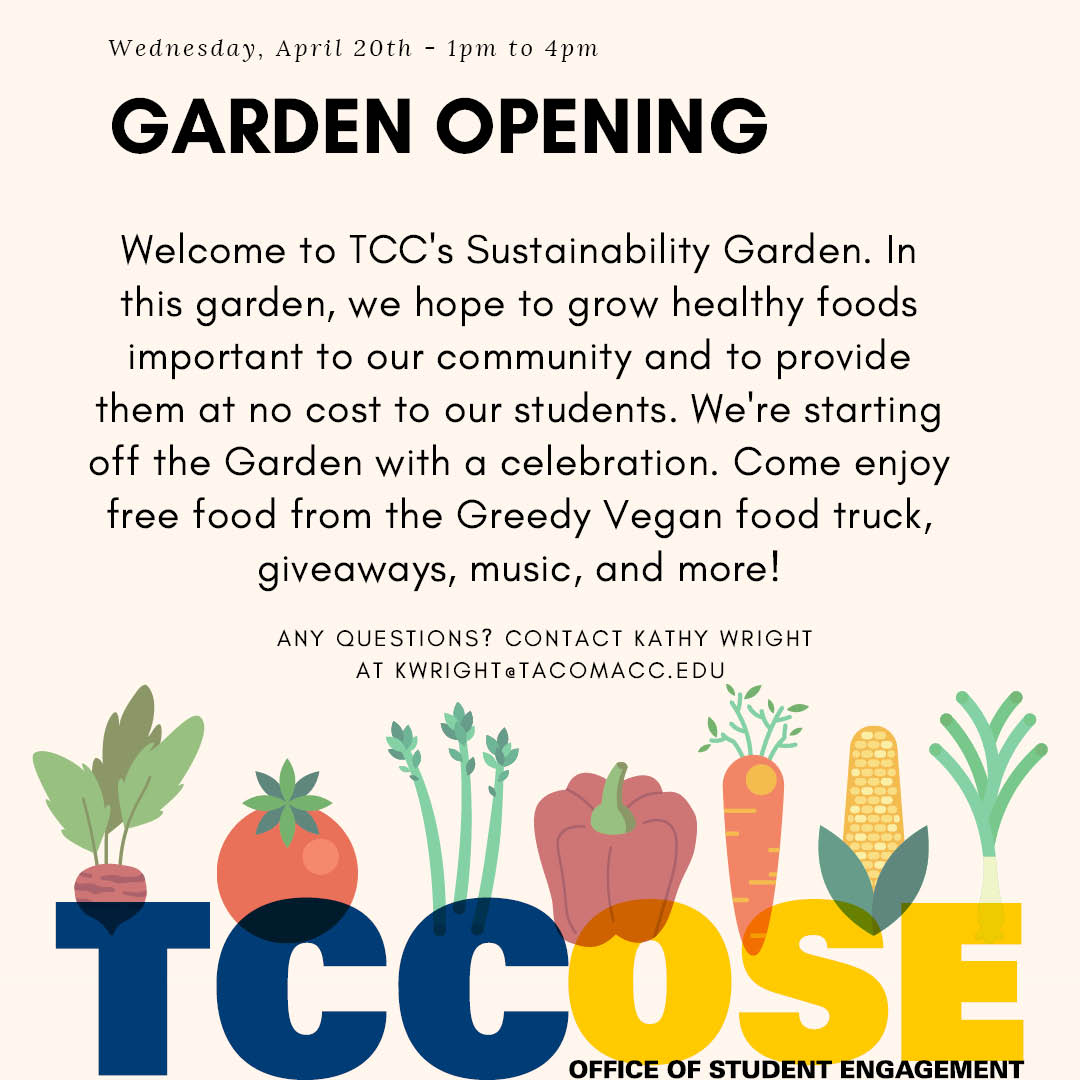 Be there for the Grand Opening of TCC's Sustainability Garden! The garden will grow healthy foods important to TCC communities and provide them at no cost to students. Celebrate with free food from the Greedy Vegan food truck, giveaways, music and more!
The Garden is located in the former playground of the old Early Learning Center, between Buildings 20 and 21. Questions? Contact Kathy Wright: kwright@tacomacc.edu
Virtual Earth Day Summit
Thursday, April 21, 4-6:30 p.m.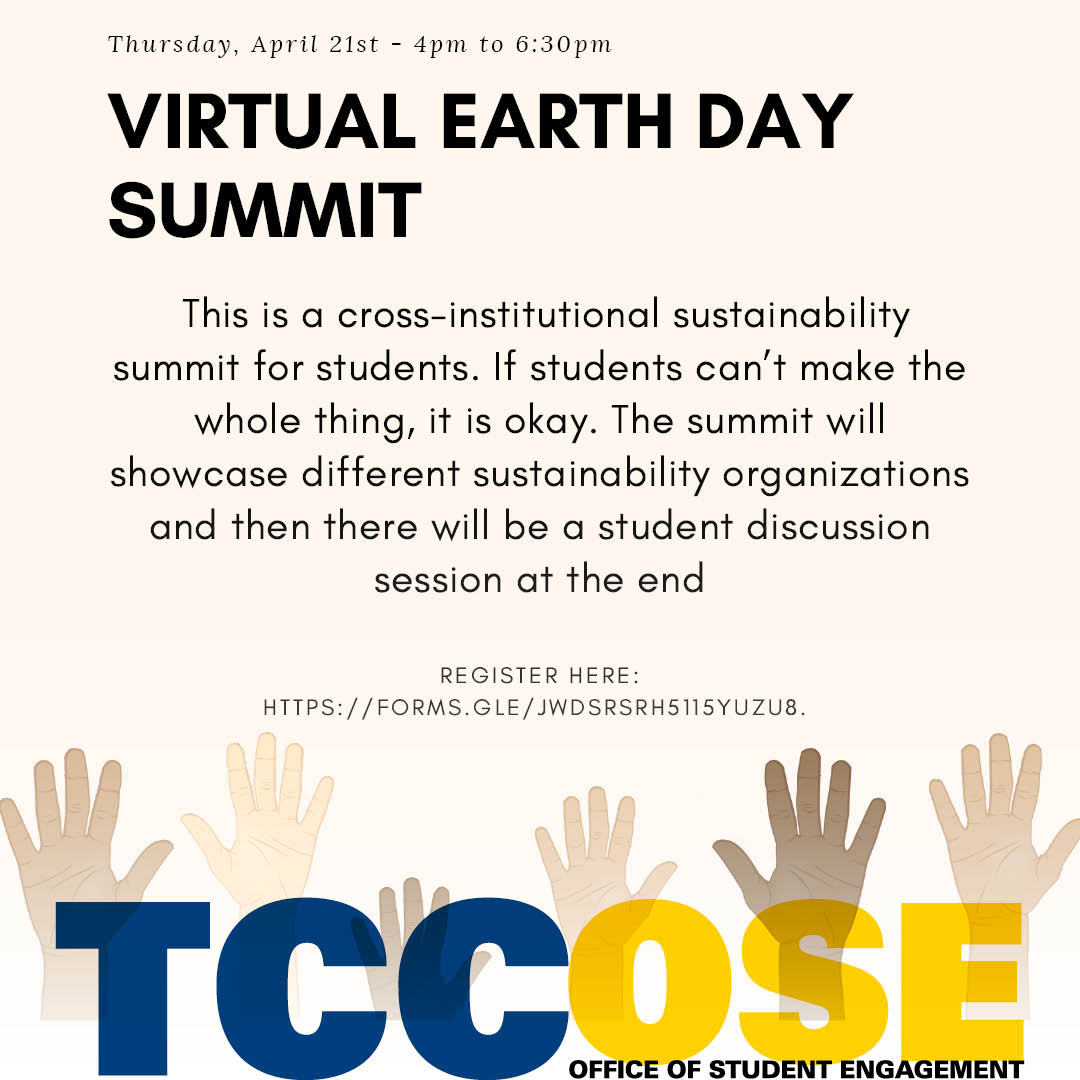 Students are invited to attend a virtual cross-institutional summit, even if they can't attend the entire event. The Summit will showcase different sustainability organizations, and there will be a student discussion. Register at HTTPS://FORMS.GLE/JWDSRSRH5115YUZUB.
How to Become More Sustainable
Friday, April 22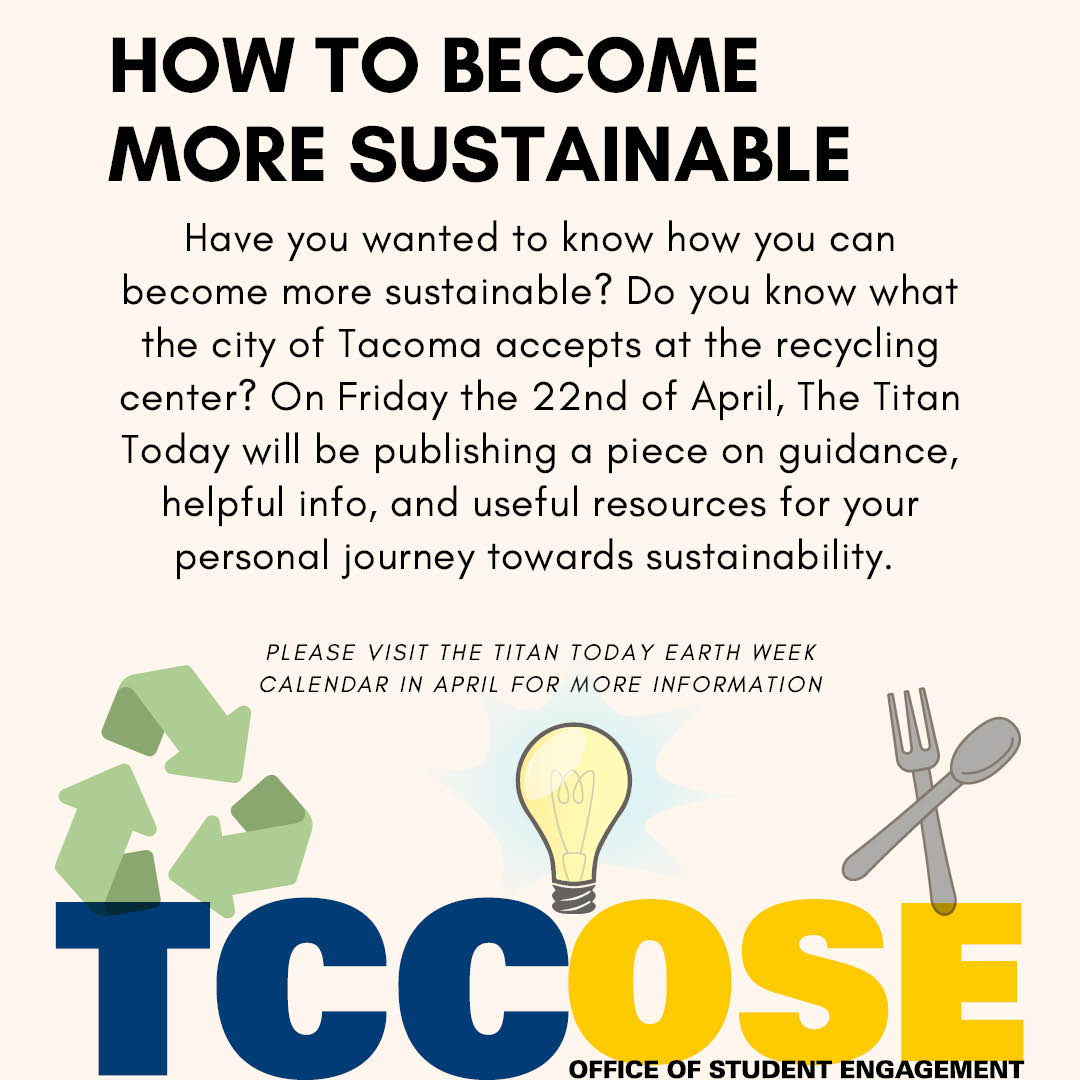 Have you wanted to know how you can become more sustainable? Do you know what the City of Tacoma accepts at the recycling center? The student publication "Titan Today" will publish a piece with guidance, helpful information, and useful resources for your personal journey towards sustainability. Visit the Titan Today Earth Week calendar in April for more information.