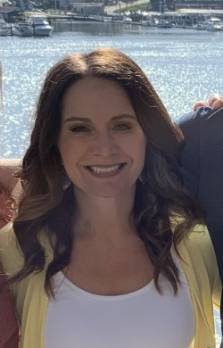 Email
rmcgill@tacomacc.edu
Phone
253.566.5298
Office
Bldg. F1 Rm: 25
Dept.
Communication & Transitional Studies (Dev Ed)
Office Hours
Wed: 10:00 AM - 2:00 PM - Office Hours - Fall Quarter
Mon, Wed: 10:00 AM - 2:00 AM - Office Hours are also available by appointment or Zoom - Fall Quarter

Profile: Prof. McGill
What would you like students to call you?
Rachelle or Prof. McGill
One of my favorite LC lectures
One of my favorite LC assignments is when students analyze their ascribed and avowed identities. I love this because the students always say it was one of their favorite assignments and they use a Styrofoam head, yes, that's right, a fake head, to create a 3D image of what each type of identity is to them. It sounds so basic, but it goes deep.
Our ideal LC student will
Our student is the person coming to school for the first time, returning to school after a break, or someone who simply wants to regroup and get a better handle on how they manage being in school. Our ideal students are anyone who strives towards becoming the best version of themselves, is interested in creating relationships and finding connections, and simply wants to learn and have fun.
I love teaching in this LC because
I love teaching this LC for many reasons, but the two main reasons are the students and getting to work with Allison. In class we create "families," and by the end of the quarter the entire class has become one community. There is a sense of belonginess and safety. I also love to teach with Allison, and we have found our own balance as team-teachers. We have similar approaches to creating assignments and the design of the classroom that is reflective in each of our styles.
In class I'm most likely to
Express the fact that I STILL struggle with meditation even though Allison has pushed me to keep up the practice (she leads quick session in class once a week), and I try not to take myself too seriously.
Class Schedule
| Quarter | Class | Title | Day(s) | From | To | Location | Mode |
| --- | --- | --- | --- | --- | --- | --- | --- |
| Winter | CMST& 101CCP | Introduction to Communic | TTh | 11:30 AM | 12:20 AM | 12-130 | Classroom |
| Fall | CMST& 101CCP | Introduction to Communic | TTh | 11:30 AM | 12:20 AM | 12-250 | Classroom |
| Winter | ENGL& 10109O | English Composition I | TTh | 2:30 PM | 3:20 PM | OLLSYN | Classroom |
| Fall | ENGL& 10106H | English Composition I | TTh | | 1:20 PM | 19-10 | Classroom |
| Fall | ENGL& 101A7- | English Composition I | TTh | 1:30 PM | 2:20 PM | 19-10 | Classroom |
| Fall | ENGL& 101A7- | English Composition I | TTh | 1:30 PM | 2:20 PM | 19-10 | Classroom |
| Fall | WRITE 095A7 | Tools for Reading and Wr | TTh | 2:30 PM | 3:20 PM | 19-10 | Classroom |
| Winter | ABE 071CCP | R/W: Occupational Educat | TTh | 10:30 AM | 11:20 AM | 12-130 | Classroom |
| Fall | ABE 071CCP | R/W: Occupational Educat | TTh | 10:30 AM | 11:20 AM | 12-250 | Classroom |
| Winter | COL 101CCP | College 101 | TTh | 9:30 AM | 10:20 AM | 12-130 | Classroom |
| Fall | COL 101CCP | College 101 | TTh | 9:30 AM | 10:20 AM | 12-250 | Classroom |