Tacoma's Museum of Glass and loft apartments down the street
Homestay and Housing Search
Living in Tacoma, WA
Tacoma is a mid-sized city of about 220,000 people and a total area population of about 260,000 when you include the nearby smaller cities of University Place and Fircrest. TCC sits at an intersection of these three cities.
It is important to know that Tacoma Community College does not currently have a residence hall or other on-campus housing. TCC does offer a homestay program that is managed by the International Programs Office. Students who do not live in homestay either make arrangements with local friends or family or they rent an apartment, home or condominium on their own.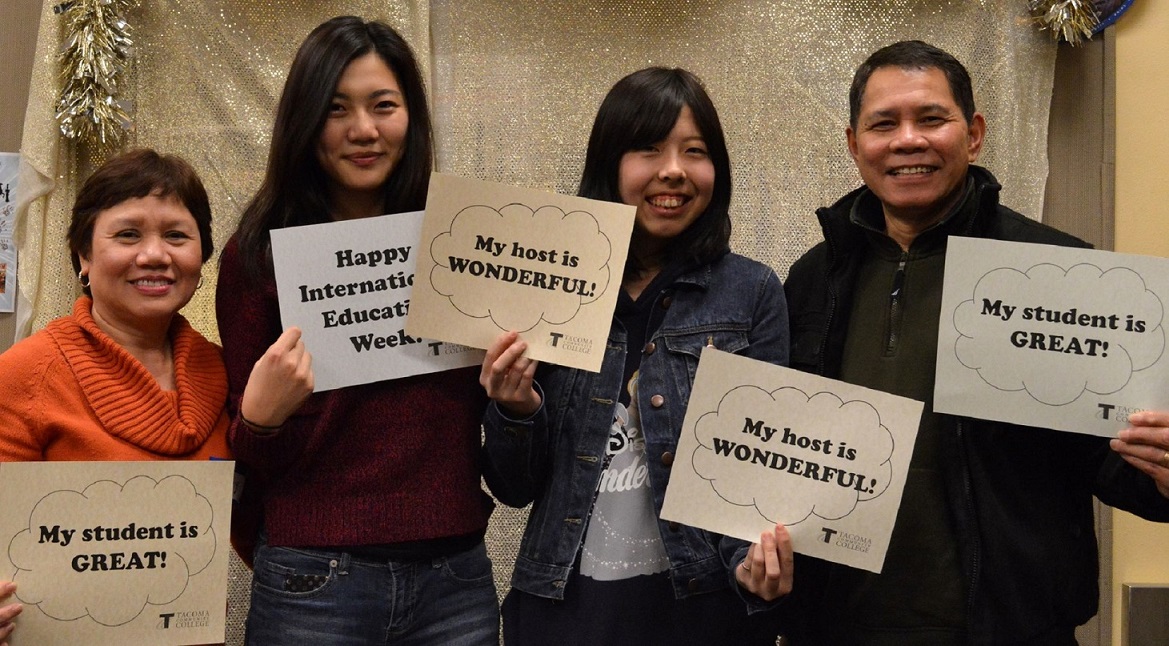 Living With a Host Family
Homestay is an exciting and unique way to learn about American culture and improve English language skills. It is much more than just renting a room or having a landlord. As a TCC Homestay student, you will live with one of our local host families who will help you adjust to living in the U.S. They will include you in their family life and provide support that will help you succeed in your studies. All TCC hosts are screened by TCC and receive an orientation and ongoing support from our International Programs Office.
TCC has hosts from many different backgrounds. Some have children at home, others do not. Some host more than one international student. We have single host parents as well as couples. TCC hosts represent a wide variety of race, ethnicity, religious practice, age, and even national origin. Some have been in the U.S. for generations while others are immigrants who were international students themselves.Every host is different so each homestay is a different experience. We look at your interests and requests and the interests and requests of host families to make the best match possible.
Homestay placements are quarterly commitments (3 months). At the end of each quarter, you have the option of staying with your host, changing to a new host, or moving out of homestay entirely. Many students will live with the same family for their entire time at TCC and form lifelong connections.
Homestay Application Deadlines"
| | | |
| --- | --- | --- |
| Quarter (Term) | Application Deadline | Arrival Dates for Airport Pick-up |
| Spring 2022 | Feb. 15, 2022 | Mar. 20-21 |
| Summer 2022 | May 15, 2022 | June 11-12 |
| Fall 2022 | August 15, 2022 | Sept. 17-18 |
| Winter 2023 | Nov. 15, 2022 | TBD |
---
Homestay Space is extremely limited! Please note application deadlines and apply ASAP.
Due to COVID-19, the TCC Homestay program was on pause until Fall quarter of 2021. We are excited to welcome students to our Homestay program once again but space is still limited. Many host families are waiting for more progress against the COVID pandemic before they accept students into their homes again. Students who want homestay need to apply before the posted deadline AND must complete the registration process once they receive their visa. We are unlikely to be able to accommodate students who apply late and/or delay in submitting their visa
N
ote that homestay rates and options are changing for the 2022-23 school year beginning in September, 2022. The following information is only for Spring and Summer quarters of 2022. Look below for information and applicaiton for the 2022-23 school year.
Students Applying for Summer 2022 who plan to continue in homestay for Fall of 2022 need to also submit a 2022-23 application.
---
Homestay Placement Fee: $250
One-time placement fee for students who join the Homestay Program that is charged to your student account after you arrive. Students receive the Homestay matching service, continued support from the staff throughout their time at TCC, and airport pick up.TCC offers two homestay options:
Complete Homestay | $675 per month
3 meals per day, of which the host prepares dinner and the student prepares breakfast and lunch.
Partial Homestay | $525 per month
No meals provided; the host provides a room for the student and access to a kitchen.
Homestay Changes effective Fall 2022"
To keep up with rising food, utility, and other costs, TCC is raising the monthly homestay rates and the one-time placement fee. This is the first rate increase in many years. In addition to these increases, we will offer a shared room option where 2 students would live in the same room, similar to a college residence hall. Each student sill still have their own bed, desk, storage, etc. Only hosts with large bedrooms will be able to offer the shared option, so space may be limited.
Both the Compelete and Partial meal plans will have shared options. the new rates below are per month and paid directly to the host family.
| | |
| --- | --- |
| Complete Homestay, private room | $950 |
| Complete Homestay, shared room | $850 |
| Partial Homestay, private room | $700 |
| Partial Homestay, shared room | $600 |
Additionally the Homestay Placement Fee will increase to $350 and will be charged to your student account once you accept your host family placement. Payment will be due at the same time as tution.
Applying for Homestay
Please select and submit the appropriate application.
If you are requesting summer homestay and planning to continue in Fall quarter, you only need to submit the Summer application for now.
We will have you sign an updated renewal contract for the new school year after you arrive.
After you apply, please review the following resources:
Review and understand the

Homestay Handbook
Follow all New International Student Steps
Provide Arrival Information (provide arrival information for airport pick up)

Pay the Placement Fee with tuition (the placement fee is charged to your student account.
TCC begins the matching process following the application deadline for that specific term. This process takes 2-4 weeks
Applying early DOES give you priority in the matching process, but we do not make host family assingments until after you confirm your visa. Students who already have an approved visa may have priority over students who applied earlier, but do not have a visa yet. All students will receive their family's profile approximately 2 weeks prior to arrival.
If you are experiencing a delay in receiving your visa or booking your flight, please make sure to communicate with TCC International Housing before the deadlines.
Please note that while TCC homestay has reopened, the worldwide situation with COVID continues to change. Please be sure to stay up to date with travel requirements. You can find up to date information here: CDC travel requirements
Also note that if you have applied after the deadline for a particular quarter, we may not be able to accommodate you in homestay. It is also important to understand the visa application process in your home country as many U.S. embassies are in limited operations. The wait time in some countries can be many months if you do not already have an appointment. You can find approximate wait times using this U.S. State Department tool: Visa Appointment Wait Times
Not requesting airport pickup?
Please note, if you do not arrive on one of the pre-scheduled arrival days, you must make your own transportation arrangements from the airport.
There are many options available for students who are arriving on a different day or plan to arrange their own transportation. The best options for transportation from the airport are generally ride share such as uber or lyft; although, there are many taxi services as well. Depending on where you are staying, there may be a shuttle available. The website for the SeaTac airport has some good information and links to different options:
Not Staying in Homestay?
Apartments and other Housing Resources in Tacoma
Become a Host!
We are always seeking enthusiastic families who would like to host long-term or short-term students. Learn more!
Have questions? Contact International Housing
International Programs
Tacoma Community College
Building 11, 2nd Floor
Phone/Fax: 253-566-5190
Facebook/Instagram: @tacomaccinternational