Titan Basketball Teams to NWAC Tournament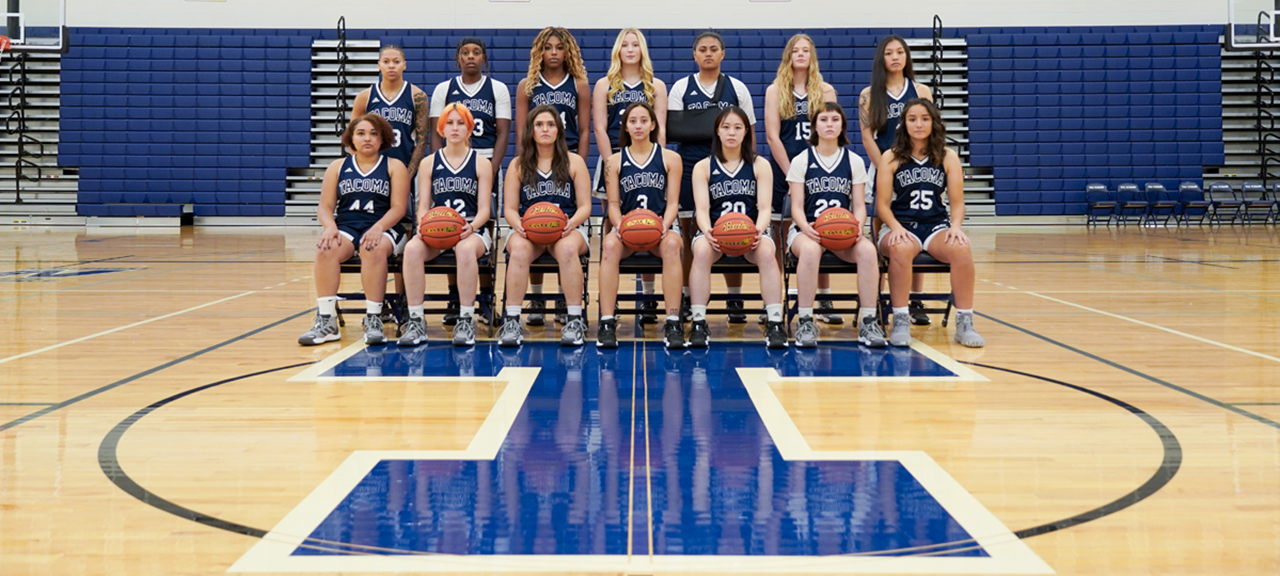 Both the Men's and Women's Tacoma Community College (TCC) Basketball teams have clinched a spot at the NWAC Tournament, which will be held March 17-20 and 26-27 at the Walt Price Fitness Center at Everett Community College. The event will be livestreamed on the NWAC website.
Titan Women's Basketball Team
Under the leadership of Head Coach Jennifer Keyes, who has been steadily building up the women's program for the past three years, the team went from an uneven start to a winning season.
"We have had some ups and downs since kicking off the season in November, but we have a great group of kids that compete really hard and have created a really strong bond over the past 6 months," Keyes said. "Hopefully our experience and the magic of March Madness will help us win a tournament game or two!"
Keyes is assisted by Keeshia Thomas and by Shoni Pritchett, who played at TCC from 2016-2018 and joined the team as a coach this season.
The team's statistical leaders are:
Freshman point guard, Shiho Isono, #20. Isono is an international student-Athlete from Japan. In conference play she is averaging 19.3 points per game on 40% shooting from the field, 84% from the free-throw line. With 3.9 steals, she is one of the Titans' strongest defenders.
Sophomore Guard, Adrienne Washington, #30. Washington is averaging 9.9 points per game on 40.3% field goal shooting in conference and also contributes 7.9 rebounds and 2.6 steals. Adrienne will graduate in the spring with her AA DTA. She has also signed a scholarship with Eastern Oregon University where she will continue her volleyball playing career.
Sophomore, Makanalani Montoya, #3. Montoya contributes 7.6 points per game off of 31.9% shooting and 84.6% from the free-throw line. She has a 1.1 assist-to-turnover ratio. Montoya is an exercise science major who will graduate in March and is a team captain.
Titan Men's Basketball Team
For the Men's team, the tournament spot could be a significant step on the road back to the Titan's status as one of the most historically dominant programs in the NWAC. The team is led by Head Coach Rachi Wortham, a former Foss High School and Titan Basketball player who was part of TCC's NWAC-Tournament winning team in 2002. Wortham is assisted by Turner Cagle, who played for Lincoln High School, and David Brown, who played professional basketball.
"Our guys played hard and trusted each other. They trusted the process," Wortham said. "It's hard to change culture, but the guys just really listen, they really lean on what I'm saying, and they play as hard as they can."
Wortham has built on the core of solid players he found when he started coaching at TCC last year. He hopes to re-instate TCC as a hub of Tacoma basketball talent.
"Pros, overseas guys would come back in the off-season and play with us. Covid's changed that. This spring, if we're able to, I'd like to have the local players come back. Have the program not just be for TCC, but for the South Sound and Tacoma."
The team's statistical leaders are:
Jared Franklin, #33, 2nd-year sophomore*, averaging 13 points and 8 rebounds.
Solomon McGuiness, #5, 3rd-year sophomore*, averaging 13 points and 7 rebounds.
Jourdan Joseph, #3, freshman
Alileyon Ford, #10, second-best 3-point shooter in the NWAC
"Our leadership comes from the defensive presence of our sophomore Point Guard Bryce Parker," Wortham said. "He guards the best players day in and day out."
*Athletes normally have two years of athletic eligibility for community college play. In 2020-21, athletes were granted a third year of eligibility due to the pandemic.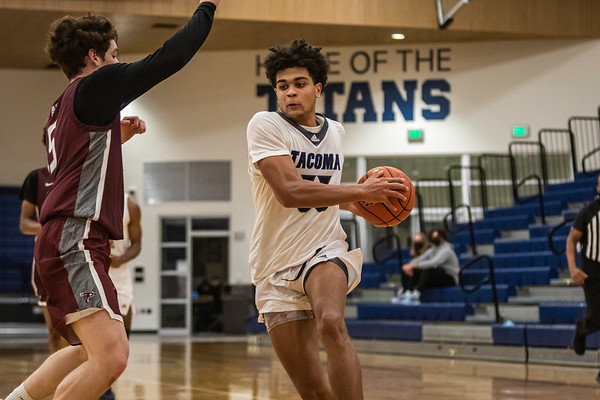 Men's basketball statistical leader Jared Franklin. Image courtesy of Robert Bunn Photography.