TCC Hosts its First Vaccination Clinic
Nine TCC nursing students and several staff members helped vaccinate more than 800 community members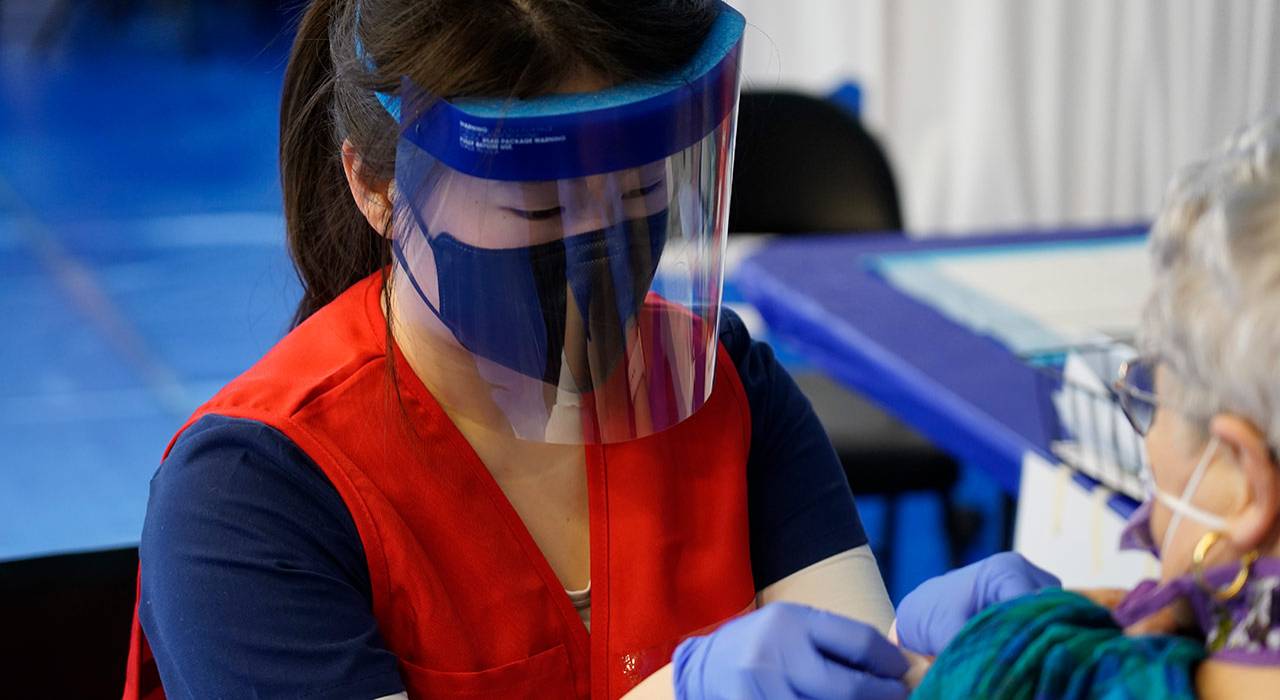 Dozens of chairs and tables, check-in stations, and hand sanitizers were set up and ready to go by Thursday morning at TCC's Health and Wellness Center, as team members prepared to greet and check in more than 800 pre-registered participants for their first dose of the COVID-19 vaccination.
TCC teamed up with Tacoma-Pierce County Health Department, MultiCare Health System, Virginia Mason Franciscan Health, Community Health Care, Sea Mar, Equity Action Network and other community partners to host a vaccination clinic on Thursday, Feb. 25 from noon-6pm. The event was part of a community-led outreach effort to vaccinate community members who face access and equity barriers. Read more about the Health Department's strategy for fair vaccination administration.
The Health Department reached out to TCC last week as a possible vaccination site. The teams quickly assembled to make this event a reality.
"We very much wanted to be part of the solution and help the Health Department and our partners vaccinate our community," said TCC President Ivan L. Harrell, II, Ph.D. "We are honored to support these efforts, and to help make the distribution of these vaccines more equitable."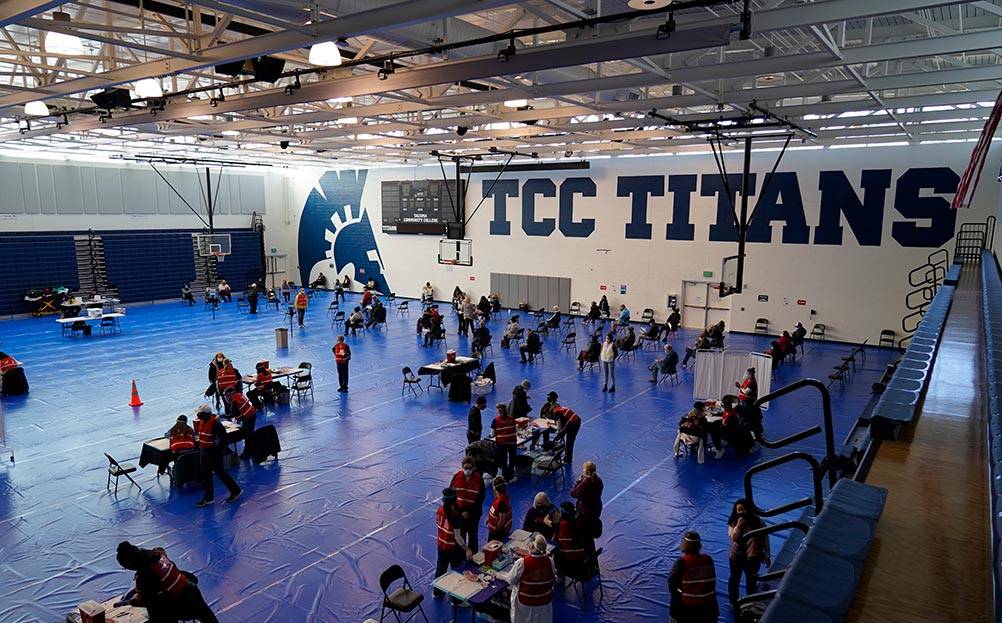 Set-up began on Wednesday. By Thursday morning, instead of masked athletes practicing their basketball shots, the gym and fitness areas were temporarily converted into a makeshift clinic.
Joining the effort was TCC's own nursing students and staff and faculty, who helped other clinicians administer vaccinations.
"This was an amazing opportunity for our students," said Associate Dean of Nursing Julie Benson, RN. "It not only provided excellent clinical training, but these students felt they were contributing to a greater good."
The nine TCC students, fifth quarter nursing students and members of the honor society, decided to volunteer to administer vaccines as their capstone project.
"It feels good to be directly contributing to pandemic relief," said Sean Sumida, who, like his peers, donned a red volunteer vest and clear face shield, along with the obligatory medical mask.
Many had spent time in TCC's gym prior to this event at athletic events, but never expected to be administering vaccines within its walls. "Everything kind of fell into place that we were able to volunteer here on campus and help the community," said TCC student Ann Marie Yi.
Yi, along with her fellow students JooHee Park and Se Eun Kim, are fluent in Korean, and were actively seeking out vaccine recipients with a common language in order to translate and demystify the vaccination process.
"People are so relieved that I can speak to them," Kim said. "It's such a comfort, especially in this kind of setting, which can be confusing or overwhelming." Kim said she didn't expect such a large presence of Korean-speaking individuals, but was happy to have the additional duties of translator at the event.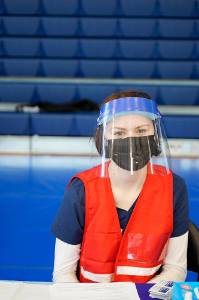 Other students involved in administering vaccines included Matthew Anderson, Grace Kovaruk, Bryonna Budd, Stephanie Marchado and Kelli Quinlan.
Nursing professor Mary Stobie was floating between vaccination tables, observing and coordinating with her students. "I'm so impressed with these students," she said. "They were immediately confident and process driven."
The vaccination clinic closed its doors at 6pm. TCC team members and event workers and volunteers worked into the evening to take-down the clinic.
"It was awesome to see our community partners collaborate so efficiently and so well," said Dr. Harrell. "I am grateful for everyone and their hard work today."
Learn more about the vaccine and check your eligibility at tpchd.org/vaxtothefuture.