Graduates Roll Through TCC Commencement Parade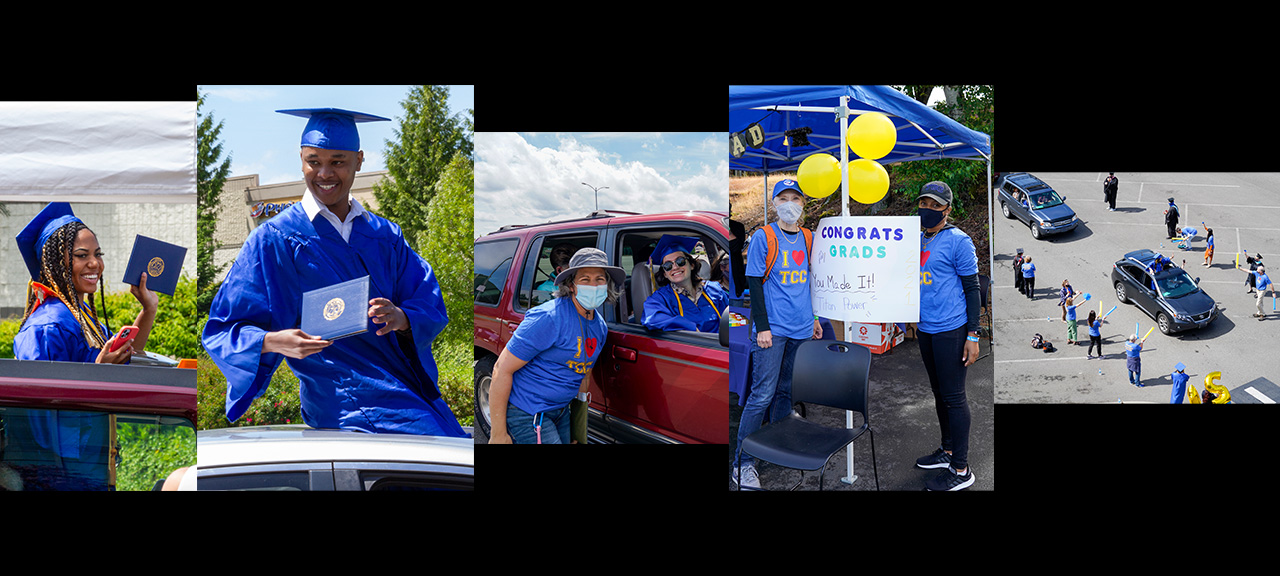 Commencement Parade, Commencement Roll-Through, "Carmencement" – by any name, TCC's 2021 graduation event was a success, drawing more than 400 graduates and their families and friends to celebrate on campus with staff and faculty Saturday, June 12.
College employees came prepared with umbrellas and pop-up tents, but no rain came to wash away the sidewalk chalk art that decorated TCC parking lots from A to E. Staff and faculty found ways to make it easy for their program graduates to find them, from a message chalked in front of a pop-up tent to the pair of Nursing sims Associate Dean of Nursing Julie Benson pulled out of Building 13 to cheer on the Nursing graduates. Student Engagement Program Assistant Daniel Garcia estimates that about 60 TCC staff and faculty attended the event.
"I believe the commencement was a success - we had a lot of fun seeing the students with their families or loved ones, and to celebrate alongside them," Garcia said. "Despite all the challenges of this past year, I believe our resilience and determination proved our community's value."
Planning for the non-traditional event began months ago, led by Office of Student Engagement (OSE) Director Sonja Morgan. TCC employees reviewed several options for how to hold Commencement festivities safely and equitably, and a safe, festive way to honor the amazing Class of 2021 came together. Following Department of Health and Washington State guidelines, the college opted to hold a car parade. Graduates also received a "Commencement in a Box" gift and free regalia. And the college partnered with video production company Twisted Scholar to pre-record a traditional Commencement ceremony, weaving many graduate stories into the video. Both the pre-recorded video and the livestream were posted on the tacomacc.edu website June 12.
Graduates rolled through campus on a parade route that looped around campus, starting at TCC's Mildred Street Entrance, pausing at the staging area in Lot A near 19th street, and reaching the stage area in Lot C and the employee cheering section in Lot D before exiting onto Mildred Street. Each graduate was allowed to roll through with up to two carloads of friends and family members. Graduates without access to vehicles could use cars loaned by Sunset Chevrolet.
TCC President Ivan L. Harrell, II, Ph.D. and members of the TCC Leadership Team read out graduate names and college trustees presented diploma covers when graduates reached the stage area. Many graduates also took the opportunity to thank the professors, family members and friends who helped them reach this milestone.
Gabriel Madison, graduating with his Bachelor of Applied Science in Applied Management degree, was driving one of the many vehicles participating in Saturday's parade. His young children, riding in the back seat, were also wearing graduation regalia. As he was handed his diploma cover, he told the crowd of cheering faculty and staff, "I couldn't have done this without God first, and then my wife and my family – my children. So they're wearing graduation hats because we're all graduating together."
A few cars behind Gabriel was a vehicle adorned with balloons and paper letters bearing messages of congratulations. In the driver's seat was Stephanie Tisby, graduating with her Bachelor of Applied Science in Health Information Management. "This is the best day ever," Stephanie exclaimed as she and her passengers danced in their seats.
"Graduation wasn't traditional, but you still made it amazing," wrote graduate Alea Curtis on the TCC Facebook page. "Thank you, guys!!!"
Watch the recorded livestream here. Find the pre-recorded Commencement Video, a graduate slideshow, voices of 2021 graduates, some of the outstanding students of 2021, and a digital card where you can congratulate the graduates on the TCC Commencement Page.