Networking & Cyber Security
Associate Applied Science (AAS)
About
TCC's Information Systems program curriculum provides the technical skills and knowledge for students who plan to enter the field of information security. If you want to be a Cyber Security Professional this is an excellent starting point!
Cyber Security is essential to effectively protecting our economy, businesses, organizations, and private information. Bank accounts, corporate websites, access to essential services, logistics, sensitive military communications, etc. are all vulnerable to cyber terrorism and attack. There is a dangerous shortage of skilled workers capable of defending against attacks and data breach in the United States. This places our digital information and infrastructure at risk. Cyber Crime is increasing at a rapid pace creating the need for trained cyber security professionals.
The Networking and Cybersecurity Associate in Applied Sciences (AAS) program prepares students for careers in database administration, network administration and technical support with a focus on cyber security. Cyber security is essential to protecting our economy, businesses, government and private information.
The program includes technical core courses providing hands-on knowledge and skills in systems, data, networking and security concepts; and non-technical core courses related to business, project and team communication skills.
Advanced course work includes training in database management, Mac, Windows and Linux servers, networking, routing, security, and virtualization. This program also provides the foundation for many industry certifications through Microsoft, COMPTIA, CISCO, and Dell/EMC.
The program offers certificate pathways that can be taken as stand-alone courses or lead to the AAS degree. This degree prepares students to transition successfully into TCC's Information Systems Bachelor Applied Science Degree and select Bachelor's degree programs at Washington State 4-year universities. Students who successfully transfer and meet entry requirements will be granted junior standing.
Program Outcomes
Demonstrate effective verbal and written communication skills necessary in information technology.
Exemplify professional and ethical behaviors required to perform effectively as an information technology team member within an organization.
Implement critical thinking skills to provide sound solutions for information technology issues.
Commit to lifelong learning, including anticipation and adaptation to ever-changing business and technology environments.
Demonstrate an integrated, comprehensive proficiency in the content area of information technology; and apply this knowledge to the real world.
Two Pathways to Choose From!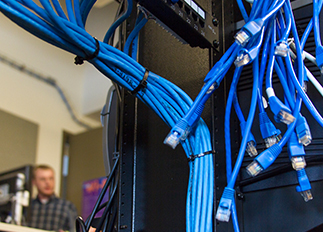 Network Support
Technical Support
Do you have a question for us?
We are available to help you online via Zoom.
Here you can talk to a staff member directly to get answers to your specific questions.
Please come join us! We are happy to help you!
Health, Business and Professional Services (HBPS) Zoom Lobby Information
Days: Wednesdays
Time: 10:00am to 3:00pm
Zoom Meeting Link: https://zoom.us/j/99980134503
Phone number to call in: 1-253-215-8782 and follow the prompts
Zoom Meeting ID: 999 8013 4503
You can also contact our department anytime and leave a voicemail at 253-566-5113. We will get back to you as soon as possible.

For Health Care program information please email us at tcchbps@tacomacc.edu.

For Accounting, Business, Paralegal and Information Technology/Cybersecurity program information
please email us at BusPrograms@tacomacc.edu.