Welcome to the New Website!
July 18, 2018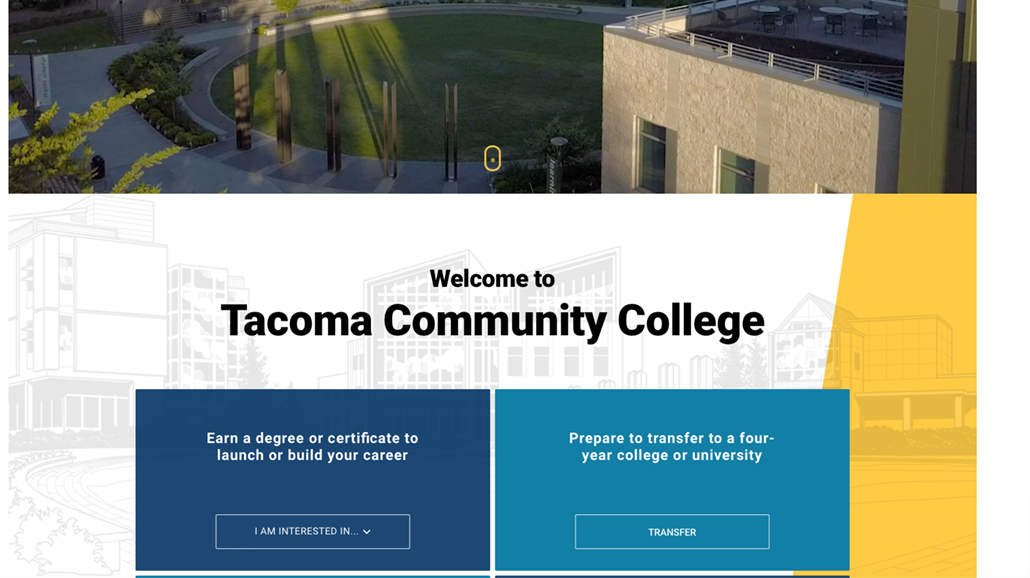 We're thrilled to announce that the new website, https://www.tacomacc.edu, is live!
The new website is very different from the old one – it has a brand new look, navigation menu, directory and content. Developed with input from users such as prospective and current students and staff and faculty, this website will serve as the college's top marketing vehicle to drive enrollment, boost its reputation and share the incredible work that happens at TCC.
The new website has been fully re-engineered and uses a higher education specific content management system called OU Campus(which supports thousands of college and university websites, including many Washington state colleges).
"We built this website from the ground up," said Tamyra Howser, Director of Marketing and Communications. "The new website is focused on drawing in prospective students and to showcase the terrific work that takes place here."
The website features important enhancements, including a responsive, mobile-first design and improved accessibility for people with disabilities. Other features are:
Lots of visuals, bold images
New staff and faculty directory and search
New user-friendly navigation
Brand-new content, including specific audience pages
Led by Marketing + Communications and IT, this project has taken more than 15 months to complete. TCC partnered with iFactory, a Boston-based website firm, and together, the team conducted research, audits and testings to determine audience and designs. The team collaborated with stakeholders across the campus, including faculty, staff and students, to re-write and scrub the website. This effort downsized the website from 13,000 URLs to 2,500 URLs to finally 600 URLs. It was a much-needed overhaul, Howser said.
The new website is much more streamlined and geared to attract students of all ages, at all stages of life, Howser said. TCC is a special place, where the college welcomes anyone who wishes to learn, advance and grow.
Special thanks goes to the project team:
Marketing + Communications
Laura Chipman
Kiril Farkov
Tamyra Howser
Brian Johnson
Sakura Moses
Rachel Payne
Candice Watkins
IT
Dean Allred
Iyad Alaqrabawi
Shannon Hight
Clay Krauss
Carlos Otero
Dan Pratt