TCC Students to Present at Qualitative Research Conference
April 24, 2019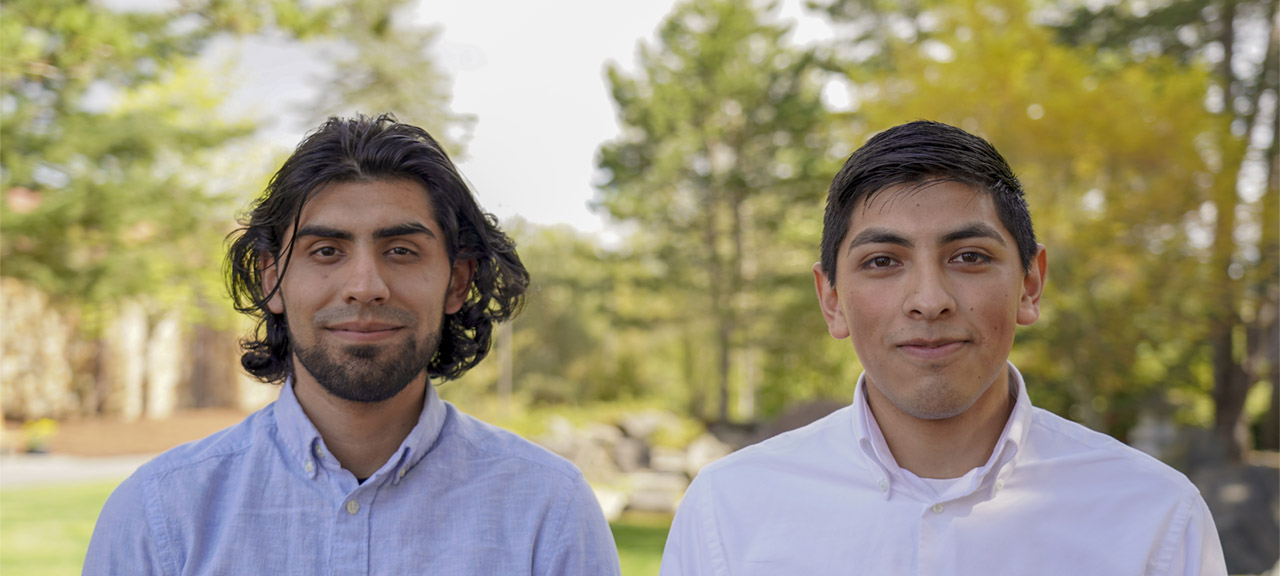 Two sociology students, a TCC alumnus and instructor Douglas Avella-Castro will present at the International Congress of Qualitative Inquiry at the University of Illinois at Urbana-Champagne May 15-18. The conference theme is "Qualitative Inquiry and the Politics of Resistance."
Students Benjy Andrés Hernandez and Cesar Martinez Pineda will be presenting on the power dynamic in the classroom as felt and understood by students. Joining them on the panel will be former TCC students Miguel Cueva and Horacio Perez Morales.
In a conference focused on research, Avella-Castro says, the student perspective is rarely acknowledged. But all researchers, if they're good at what they do, position themselves as students.
"Research is narrowly defined. A good teacher is always a good researcher. They have to become students, in that moment, to be effective in their job," said Avella-Castro. "What these students can do is offer us insight into how those micro-levels play out within the classroom. How does power operate within that context? We have to allow students to teach us how to become better teachers."
Hernandez and Martinez Pineda are part of Social Science Students for Justice (SSSJ), a TCC Learning Community that grew out of office hours associated with Avella-Castro's classes, SOC 101 and 238 Sociology of Latinos. Their presentations will be shaped by their experiences at TCC: what goes right and what goes wrong in the classroom. As part of SSSJ they're putting together a short film that will be shared with the campus community.
At the conference they'll be showcasing skills developed in social science and political science classes. Cueva will discuss immigration. Hernandez will talk about masculinity and global health. And Martinez Pineda will talk about the framing of resistance in global health interventions. Avella-Castro, who is currently working on a Ph.D. in Anthropology at the University of Washington, will present research he's doing in Puerto Rico. He will also present as part of a separate panel, talking about resistance in pedagogy.
"How we cultivate effective dialog in the classroom, facilitating a sense of community and a sense of trust," said Avella-Castro. "Creating the conditions where students feel safe enough to be vulnerable with their thoughts and feelings."
Martinez Pineda knows something about that, and he knows how critical it is to create a sense of community and a sense of trust. Struggling at TCC after an unsuccessful attempt at attending a four-year college, he happened to run into Hernandez, a former high school classmate who encouraged him to take Avella-Castro's class. That chance meeting, Martinez Pineda says, was key to turning things around for him.
"Andrés introduced me to Professor Avella-Castro, and that's when I started to get a sense of where I fit into education," said Martinez Pineda. "I wouldn't be in the position I'm in now without Professor Avella-Castro, his mentorship, and the students in the community we formed who are building that need to learn."
Creating Community to Create Learning
Hernandez says the SSSJ grew naturally from a group of students who wanted some extra context and wanted to learn how to learn.
"It's still in the same spirit of office hours, but there's more of us and we can learn from each other, and from our strengths," said Hernandez.
Though both students were honored to be invited to attend the interdisciplinary qualitative research conference, they both insist that any other member of SSSJ could have stepped up to present, and that in a sense they are both presenting on behalf of SSJ.
"It wouldn't be fair to say it's just us," said Martinez Pineda.
Both students will graduate this spring and transfer. Hernandez plans to major in medical anthropology. Martinez Pineda, who is interested in Tacoma's interface with the Northwest Detention Center, plans to complete UWT's Ethnic, Gender and Labor Studies program, go to law school, and practice immigration law. Eventually they'd both like to teach at the college level – possibly even at TCC.
Before leaving TCC, Martinez Pineda and Hernandez are doing their best to make the college more welcoming to the men of color who will follow them as students. SSSJ is working with students at UWT to co-publish a student magazine on issues related to college students of color, and many SSSJ members plan to attend the April 27 Men's Summit.
"We talk a lot about issues we face as students of color," said Martinez Pineda. "To be able to touch on different subjects that are relational to one another – it's very important for our club, and for the students who might need it who don't have the connections we have. The more we can branch out, the better the community will get."
Martinez Pineda thinks lots of students could benefit from Avella-Castro's SOC 238 class and suggests that TCC consider offering it more than once per year.
"I'm getting a completely amazing education at this community college, specifically because of the professors and the opportunities TCC allows for them to do what they do," said Martinez. "For us to be in the position we are now – we're really, really grateful. But, we'd like to see more of that."
Hernandez' advice to incoming students is to connect with a professor that cares about his or her subject and students simultaneously.
"Try to make a bond. Make a community group and pay it forward. I think clubs can start the basis of a community, and from there you can branch it out. Link it all together."
Hernandez is grateful for the opportunities he's found to "link it all together" at TCC.
"TCC allows their students to go to prestigious conferences and has learning communities that allow them to gain the skills necessary to perform at the highest levels," said Hernandez.