Latoya Reid Wins Faculty Excellence Award at Faculty & Staff of Color Conference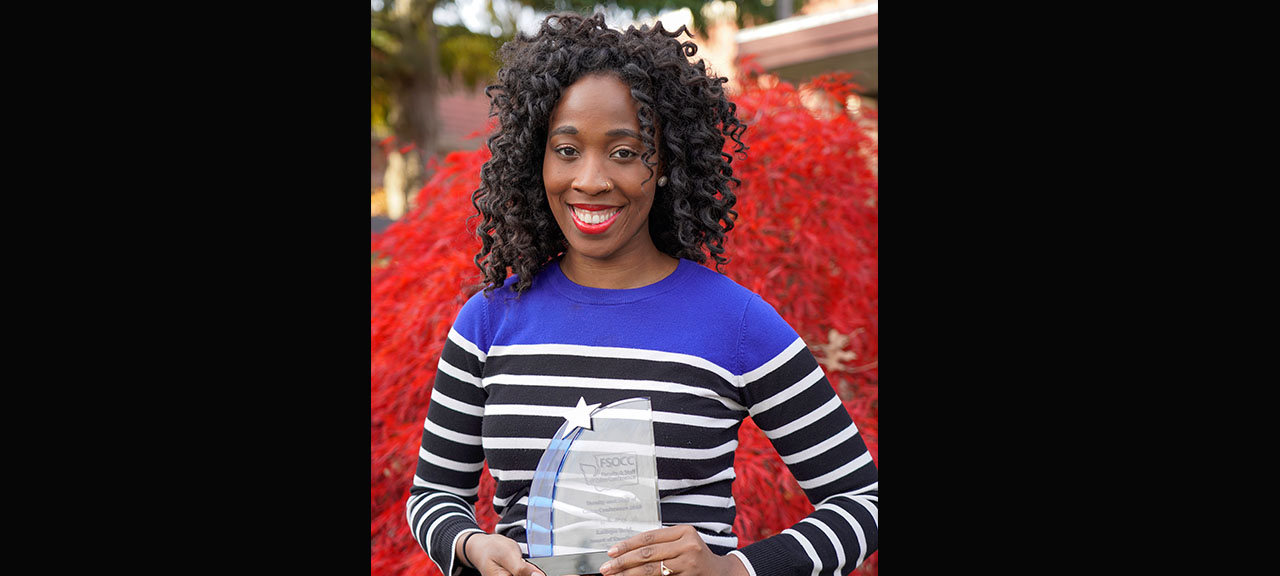 TCC English Instructor Latoya Reid was awarded this year's Faculty Excellence Award at the recent Faculty and Staff of Color Conference. Held in Spokane, Washington, the state-wide conference was celebrating its 24th year.
Reid wasn't planning to attend this year. But about a month ago, she received an email telling her she was the reward recipient.
"I found out I had been nominated when I found out I won," said Reid.
The conference was something of a "full circle" experience for her. For one thing, it was her third time attending the conference, and her first conference was also held in Spokane. At that first conference, she vividly remembers congratulating Vik Bahl, the instructor who won the Faculty Excellence award – a personal hero of hers from Green River Community College. This time, he was the one congratulating her.
"When he congratulated me, I almost fell to pieces," said Reid.
Though she hasn't read the nomination letter (to which several of her colleagues and a couple of students contributed), Reid suspects the nomination has to do with her work to expand access to Learning Communities at TCC. She was part of the faculty group that, about two years ago, pushed to expand the model used by certain cohort groups to the college as a whole.
"There's a whole body of research about how Learning Communities retain students of color and historically marginalized students," said Reid.
One of the results of that push for expansion is "Students Together Achieving Rising Statuses," the STARS Learning Community which Reid co-teaches with Human Development instructor Nigeria Bell and Sociology instructor Dr. Andrew Cho.
"It's been going really well. So many students we've seen come out of the Learning Communities become some of the best student leaders on campus. One girl came by today and was like, I got into UW! She's dressed head to toe in purple. And she's credited the Learning Community model with a lot of her growth and success."
According to Reid, Learning Communities support faculty of color, as well as students. She and current Vice President of Equity, Diversity and Inclusion, then-faculty member Dr. Judy Loveless Morris wrote an article in The Evergreen State College's publication Learning Communities Research and Practice about how learning communities can be instrumental in retaining faculty of color.
"I saw it as a way for us to expand our conversations about identity in the classroom in a way that was initially nerve-wracking to do solo," said Reid.
Reid started teaching at TCC in Fall 2015, but she's been teaching a total of 10 years. In her English classes, she tries to get students away from the idea that there's such a thing as "bad" English. She brings in lesser-heard narratives and ways of thinking about writing. And she encourages students to think about how identity and socialization shapes writing by sharing her own story.
"I'm very open about my identity as a black woman, as a black teacher," said Reid. "It's important that my students, particularly historically marginalized students, know that they can be intelligent and articulate in this space without leaving the best parts of their identities at the door."