Applied Management Students Revive Rooftop Garden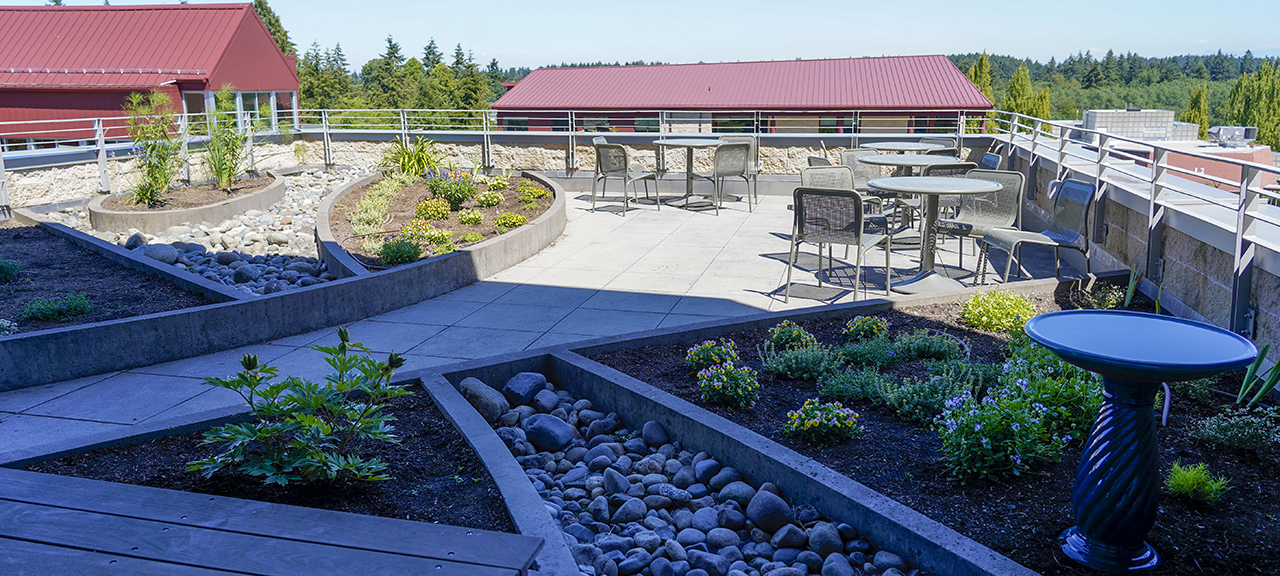 A group of juniors from TCC's Bachelor of Applied Science (BAS) Applied Management (AM) Junior Class chose to clean up and replant the overgrown garden on the east end of the Building 13 roof as a project for their first Project Management class. The class was BUS 350, Fundamentals of Project Management, taught by Dr. John Inman.
Student Michelle King said that the group of future business leaders chose the project because they wanted to give back and make their mark at TCC, leaving the college a little better than they found it.
"We liked the idea of a garden as it would continue to live on well after we leave the school," said King. "It would provide not only beautification but a nice place to study."
King said that the choice to work on the garden, located on the roof of the Harned Center for Health Careers, was also a nod to the COVID-19 era.
"It seemed appropriate to start here, acknowledging the sacrifice and importance of those being educated in this building," King said. "One of our cohort members' mother was a nurse who passed away at a young age, so you will find one centerpiece plant dedicated to her mother."
King said that project management plays a critical role in almost any field, so the lessons learned from managing a project such as the revitalization of the rooftop garden can be applied to any career the AM graduates may choose to pursue. She added that a unique thing about the BAS in AM program is that you work with the same students for two years.
"My personal experience have been positive and feel like I have a group of people I would be proud to work with after graduation," King said. "Mary Jane Oberhoffer, Associate Dean for Business and Logistics, Dr. John Inman, Dr. David Purnell, Professor Teresa Ivers, Professor Matthew Mburu and Sherry Cmiel are providing a world class education. They care about you as students, about your learning and then being able to apply that learning in a practical manner. Other schools should be so lucky to have them."
King thanked the Black Student Union (BSU), Wilco, and Kent East-Hill Nursery for financial help. She also thanked OSE Director Sonja Morgan, OSE Program Specialist Daniel Garcia, and the Facilities and Grounds crews for their support and help.
BSU Treasurer Angelique Butler is also a member of the BAS AM project team.
"I learned how to make an assignment fun by spreading the joy of the seasons while beautifying our campus spaces," Butler said. "Coming out of the shadows of a pandemic lockdown, our team project created happiness, comradery, positivity, and paves a way for more creative thinking in the near future."
Team member Chanry Yann said that she chose this project because of the enthusiasm, passion and motivation that she sees in her classmates.
"Seeing the time and commitment that everyone puts into their assignments and project these past years drive me to work harder and I love that about this cohort," Yann said. "The BAS program has a been huge boost to my confidence, as it has created new connections and relationships for me."
Team member Courtney Sweeney agreed, adding that the BAS AM program has taught her the difference between a manager and a leader, and has given her the opportunity to apply the leadership skills she's developing.
"Because of this program I feel that I will leave and graduate as a leader ready to enter the business world to make a significant difference," Sweeney said. "The experience with the cohort has been great as it has taught me to work with all different kinds of people and personalities. It's had its challenges but more than that it's had its celebrations. To work so closely with the same group of people next year excites me. I love the aspect of that part of the program. I have already developed close friendships with some of my cohort mates that I know I will be in contact with after we graduate."