Student Story: Tony Kaburu
Supporting Men of Distinction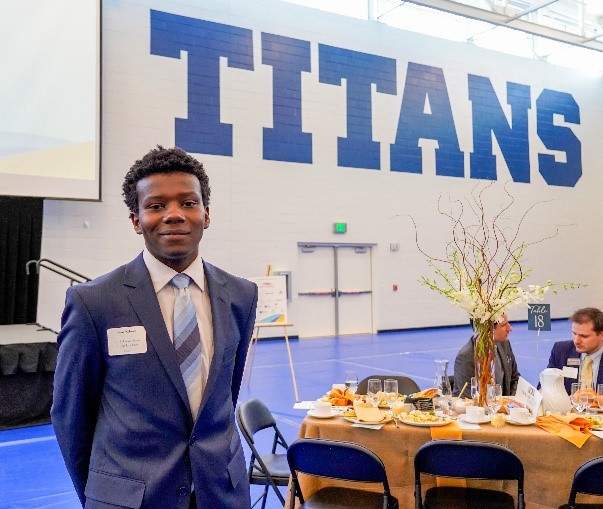 Tony Kaburu's mother always knew he was capable of great things. And when he was young he agreed with her, setting his sights on careers such as "Astronaut-President." With a little help he set a more achievable career goal, and he threw himself into learning as a bright, curious student.
However, like many other students, Tony hit a rough patch in high school. He lost his drive and his motivation, and before he knew it, he was a senior with no idea what his next step was going to be.
"I knew I wanted to do great things, but I didn't know how, or even if I could anymore. But I knew that I couldn't stop learning. Because if I did that then I'd be dead in the water," said Tony in a speech given during the 2019 Reach Higher Luncheon at TCC.
Tony enrolled at TCC, and his advisor told him about the Men of Distinction Program (MOD). He was wary of committing to an extracurricular activity, but his advisor clearly believed in the program, and he decided to trust her. He signed up for the summer program.
"In those four weeks I found a place that fosters greatness and camaraderie," said Tony. "Through MOD I met most of my friends on campus, not to mention the staff who are some of the most motivated and hardworking people I know. They advise most of our cohort and I don't think there is a single student in there that they don't believe in and help to succeed every single day."
Tony says the MOD program helps him to achieve his goals and gives him the tools and connections he needs to achieve the potential his mother had always seen in him.
"Our student body needs a place like this where they can be challenged excel and realize their full potential," said Tony. "Not everyone has someone in their corner like I do, but this program can give them a family who is."
To find out how to support the Men of Distinction Program, contact Lynette Crumity at 253.460.4318/lcrumity@tacomacc.edu