The Future Summit
Let's build a Strategic Plan
Tacoma Community College is in the process of building a strategic plan for 2019 - 2024. In an effort to get feedback from our students, faculty and staff, as well as the overall Tacoma community, we hosted an event called The Future Summit on Wednesday, January 30, 2019. It was a community wide engagement based upon four "EdTalks".
The Focus was on Four Themes:
Creating a culture of trust, change, and empowerment to ensure a high performing organization
The need for equitable student outcomes and how to achieve them
Community Partnerships as a strategy for supporting the whole student
Preparing for future workforce demands in our region
Over 450 people attended the Future Summit at TCC, including a large student population.
The Impact Statement Themes from the Future Summit include:
Community partnerships that address the whole needs for the student
Bridging diversity gaps and improving retention with peer advocates/mentors
Eliminating enrollment barriers for (everyone): Equity and Inclusivity
Models for hiring, retaining and advancing qualified, diverse faculty and staff
Helping adults living at/below the poverty line with education that allows them to earn a living wage
Innovative programs to meet students where they are
There is a lot to do to ensure the 2019-2024 Strategic Plan is thoughtful, comprehensive and truly represents the ideal TCC student experience.
More information, including the timeline and deliverables, are available to view on the Strategic Planning website.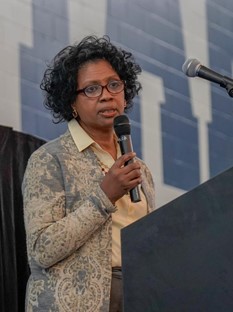 Carol Mitchell, Director, Justice Services and Special Projects, Pierce County leads one of the "Ed Talks" at the Future Summit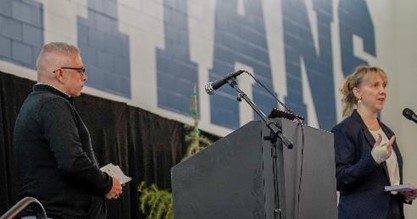 TCC faculty members Steve Johns and Sabine Endicott lead the discussion on equitable student outcomes