Write in the Harbor
Nov. 2-3, 2018 at the TCC Gig Harbor Campus.
Write in the Harbor 2018 Highlights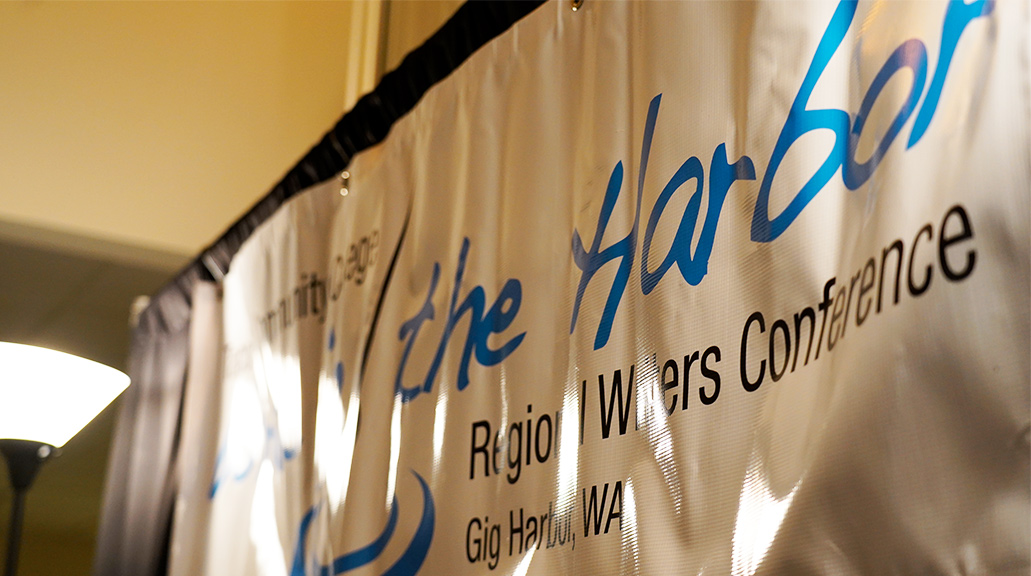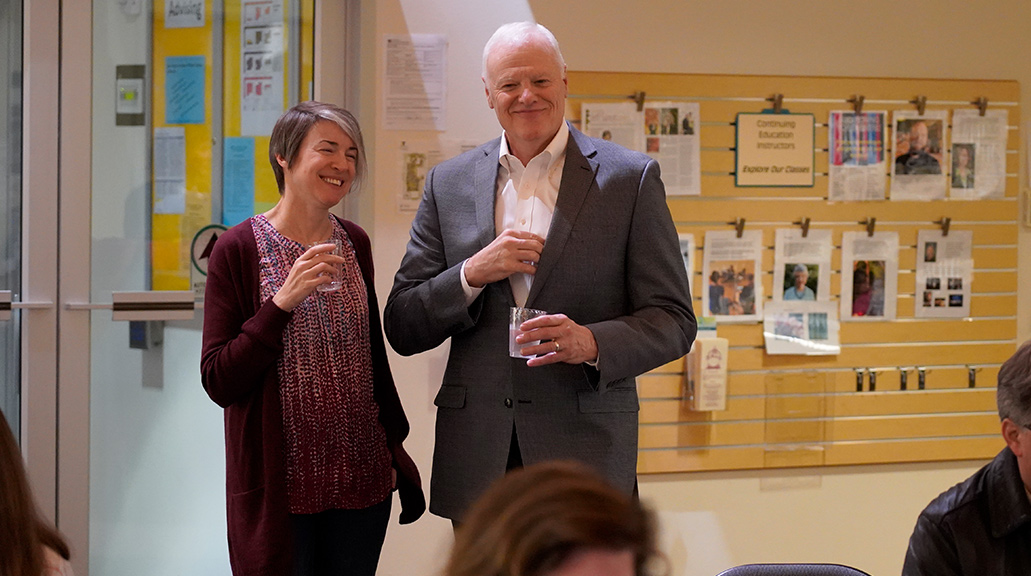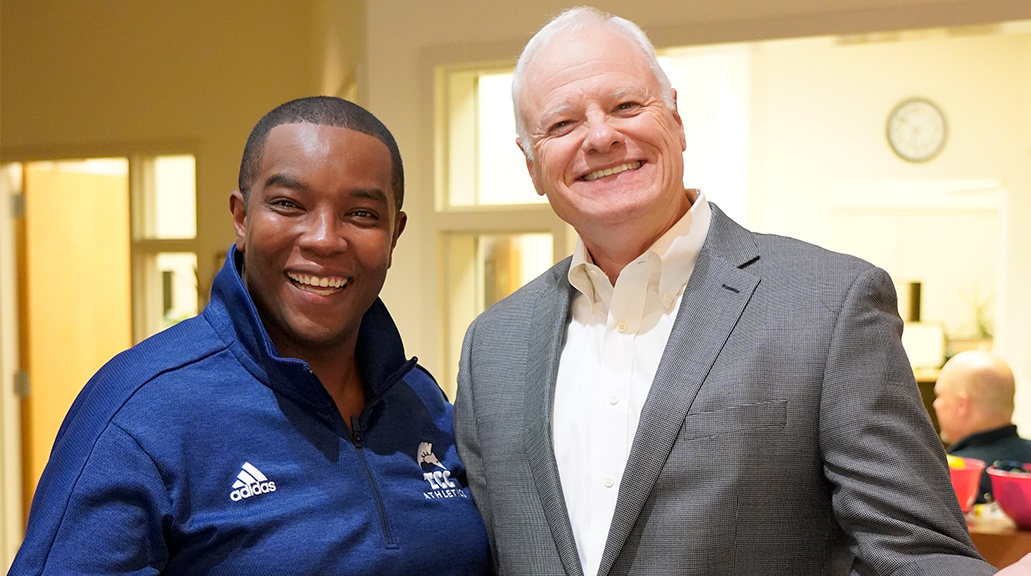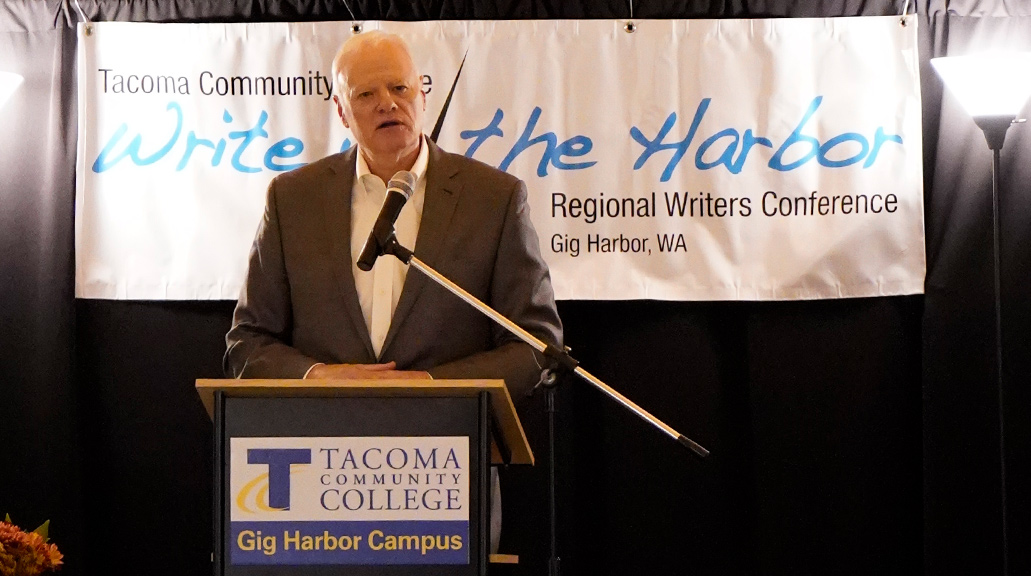 Write in the Harbor 2018
The writers conference sold out again.
Keynote Speaker and His Wife
The speakers and attendees enjoyed some pre-event socializing.
Photo Time
Keynote speaker Dave Boling stops for a quick photo with Dr. Ivan Harrell, President of Tacoma Community College.
Keynote Speaker Introduction
Mark Lindquist addressing the audience.
Author Dave Boling
Dave Boling shared his stories about writing with the attendees, including the one when he fixed a typewriter that led to his first writing job.
Discover the writer in you
Meet the Presenters
Discover who you'll be learning from.
Presenters
Schedule & Session Topics
Plan your schedule for the conference.
View Schedule
About
Write in the Harbor (WitH) is an annual event offered through Tacoma Community College's Continuing Education department. WitH supports the literary arts by providing opportunities for writers to convene and learn the craft of writing and the business of getting it published.
The conference features a keynote and master class by a local author and workshops focused on the craft and business of writing. Authors Garth Stein, Jim Lynch, and J.A. Jance have been featured at previous conferences. This is a popular event and we expect seats to sell out again this year!
For 2018, Write in the Harbor will be held Friday evening Nov. 2 and all day Saturday Nov. 3, and will feature local writer and former The News Tribune sports writer Dave Boling.
Friday night is our keynote address, and all conference attendees are welcome:
Keynote Event, 6:30pm - 9pm
Doors open at 6:30pm, light refreshments with beer and wine
Program begins at 7pm, welcome from Dr. Ivan Harrell, TCC President, and keynote address including Q&A with Dave Boling
Dave Boling will sign books beginning at 8pm
Doors close at 9pm
2018 Keynote Speaker and Master Class instructor: Dave Boling
A Writer's Journey
At age 53, journalist Dave Boling sensed impending troubles for the newspaper business and thought it wise to examine alternatives. As a fallback plan, he gave fiction-writing a try. While still writing four newspaper columns a week, he dedicated every free moment to crafting his first novel, the award-winning, historical-fiction debut "Guernica," which was published around the world. It was another step in Boling's unusual progression from blue-collar laborer to journalist to author. In addition to his second novel, "The Lost History of Stars" (2017), he has published three sports books and two collaborative memoirs. His co-authored "The Warner Boys," will be published in the fall of 2018. It is a collaboration with former Seahawk star Curt Warner (and his wife, Ana) accounting their lives raising twin autistic sons. His message to aspirational authors is clear: No matter your age or work background, getting published is always a possibility.
A Writer's Conscience
Pinned to a cork board next to author Dave Boling's computer in his home office is the transcript of John Steinbeck's 1962 Nobel Prize acceptance speech. Underlined is a portion in which Steinbeck cites his theories on a writer's obligation. "The writer is delegated to declare and celebrate man's proven capacity for greatness of heart and spirit — for gallantry in defeat, for courage, compassion and love." Through the challenges of selecting topics, creating characters and plotting their stories, Boling finds it crucial to maintain a guiding principle, a "true north" writer's compass by which he steers his works. This pledge by Steinbeck is one, among others, he will discuss in his presentation.
Lodging and Local Information
Special Write in the Harbor $129 Rate Available – just call 1-800-795-9980 and mention the conference!
Enjoy a stay at the beautiful INN at Gig Harbor, the official lodging partner for the Write in the Harbor Regional Writers Conference. Special rate of $129 applies to Writer in the Harbor attendees. Be sure to mention Writers Conference when booking. Price does not include tax.
Visit the INN at Gig Harbor, centrally located in Gig Harbor, Washington, during your stay for the Gig Harbor Regional Writers Conference.
Any Other Questions?