studentsmile
Academic Support & Resources
Connect with Advising
Are you a new student? Or returning? It's important to connect with an TCC advisor to ensure you are on the right path.
Get help with coursework
​TCC offers multiple tutoring resources for to help you with your school work. ​
Get to the Library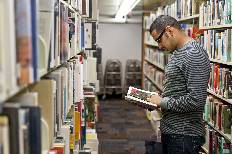 The TCC Library is located in the center of the Tacoma campus, Building 7. The library offers a comfortable place for you to study and relax, while stocked with the research tools you need.
Check out the TCC Historical Archive
TCC's archive is a treasured collection of historial materials available for student, faculty or public research. Come explore our collection. The Archive is located in Building 7, behind the Library.
Certification & Testing Center
We are a National College Testing Association Certified Testing Center.
Life, Career and Advising Support